Video
ATAC Flashlights
ATAC Flashlights
Watch Now
|
View More Videos

In accordance with Universal Postal Union (UPU) Convention, USPS Priority Mail and FedEx Smartpost shipping options will not be available for orders with products containing lithium batteries. For more information, click here.
The ATAC™ L1 Tactical Flashlight is a powerful compact product with industry leading performance for a single Lithium battery power source.
Powered by (1) CR123A battery the ATAC™ L1 Tactical Flashlight throws a brilliant 173 ANSI FL1 Lumens of light in a smooth tactical beam pattern while providing 2 hours of runtime on (HIGH) and 46 hours of runtime on (LOW). The tactical Intelligent Switch is designed to silently cycle through all 3 light modes (High/Low/Strobe) using only the Momentary-On function to prevent the "Click" sound from potentially giving up your location. The rotary Dial Lock-Out Switch allows you to instantly lock or unlock the light with just one hand using your thumb to prevent inadvertent activation. Another tactical feature developed by professionals for professionals is the Break-Away Lanyard designed to free your arm from the flashlight in the event of an emergency.
Compatible with the 53144 - ATAC™ Belt Clip/ Holster Accessory
Tested To ANSI FL1 Standard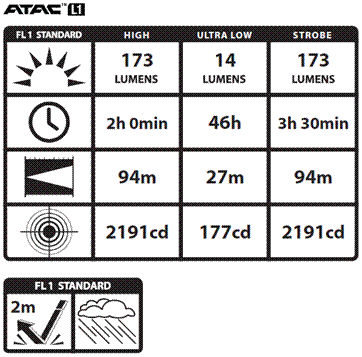 Features:
Aerospace Grade Aluminum
(1) CR123A Duracell® Battery Included
Regulated Circuit for Maximum Output
Cree® XP-G LED
Gold Plated Contacts
Intelligent Switch w. High/Low/Strobe
Momentary-On Switch
Rotary Dial Lock-Out Switch
Stamped Metal Pocket Clip
Black TPR Soft Touch Anti-Roll Ring
Break-Away Lanyard Included
Water Resistant Construction
Product Specifications:
Length: 3.9" (99.4mm)
Max. Diameter: 1.1" (26.7mm)
Body Diameter: 1.0" (24.3mm)
Product Weight: 2.1oz (59g)
Weight w. Battery: 2.6oz (75g)