A.T.A.C. A2 Flashlight
Purpose Built
The ATAC™ A2 flashlight has been designed with direct feedback from law enforcement officers and tactical operators to provide unmatched reliability, durability, and utility in the field. A powerful and efficient lighting solution for any operational or patrol environment, the ATAC A2 utilizes power-smart Cree® LED technology to throw 162 ANSI FL1 lumens of light in a smooth tactical beam, offering up to 1.75 hours of runtime on high mode or up to 75 hours of runtime on low mode from two (2) AA batteries (included). An intelligent smart switch allows you to silently toggle through three light modes – high, low, or strobe – while a momentary on provides a quick blast of light without auditory cues that might give away your location. Additional features include a break-away lanyard, a high impact pocket clip, and an anti-roll ring.
Overview:
Compact high powered flashlight
Intelligent high/low/strobe mode cycling
Momentary-on switch
Water resistant construction
Black TPR soft touch anti-roll ring
Stamped metal pocket clip included
Break-away lanyard included
Two (2) AA Duracell® batteries included
Specifications:
Impact resistant aerospace grade aluminum
6" (152.3mm) L x 1.1" (26.9mm) D
Weighs 4.9oz (138g) with batteries
Regulated circuit for maximum output
Cree® XP-E LED
Gold plated contacts
Compatible with ATAC belt clip/holster
Tested To ANSI FL1 Standard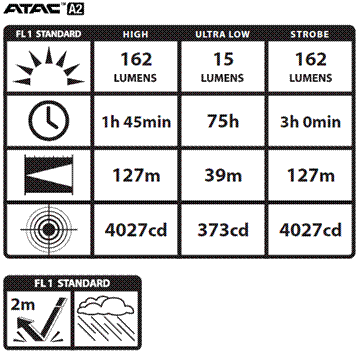 1.0
0
$25.99
Ratings and Reviews
Easy On/Off (16)
Bright (15)
Ergonomic Design (15)
Luminescent (12)
Easy To Use (3)
Short Battery Life (2)
Belt Clip Position (1)
Falls out of hold easy (1)
Light stop if hit hard (1)
Tail Switch Has Issues (1)
Bedside (10)
Power Outages (10)
Outdoors (10)
Emergencies (10)
Camping/Hunting (9)
Compact Design
Easy To Use
Easy Storage
Safe
Waterproof
I have used this product for
Personal Watercraft
Emergency Lighting
Boating
Canoeing
I purchased this after buying the ATAC L2. Which I like very much. I was looking for a second light for emergency use and wanted another battery format. This is a very good light but I was disappointed that it does not have have the Rotary Dial Lock-Out Switch (like the ATAC L2). Because I keep these lights stored in a Pack, being able to lock it in the off position insures that the batteries are good to go when you need them.Otherwise a very good light.
I have used this product for
Primary use is to backup my 6PX. Has just enough lumen to light up the night. The low setting is good for get around at night and not lose your night vision. Wish the tail switch was a little more reliable or some quality control done on it, had it replaced but now it just turns on high (better than the first which was not at all, if I play with for a few minutes I might get the low setting output to display, I gave up on the strobe setting.
Waterproof
Compact Design
Bright As The Sun
I have used this product for
Having used the standard-issue, traditional Mag-Lites for years and years, I wasn't sure what improvements the L2 could offer; a flashlight is a flashlight, right? Well, the moment I first put the L2 through its paces I KNEW that I was onto something great.

At more than twice the candle-power of even the largest available Mag-Lites (and a fraction of the size), the L2 has never failed to amaze me and come through in a pinch. Its 222 lumens (READ: "OMG, that's freaking BLINDING!") light up even the most distant, dark corners and help keep me safe. I especially like the strobe setting, because its white-hot flashes immediately disorient anybody who might otherwise be tempted to look at me sideways.

If you've never used an "intelligent switch" before, you might need to practice just a little to be able to reliably and quickly cycle through its high/low/strobe settings, especially in an emergency situation. However, the tremendous versatility offered by the flashlight's new power switch MORE than makes up for any temporary hitch in muscle memory as you learn just exactly how to crank on the blinding, flashing strobe.

This little honey has illuminated all of the bad stuff lurking in the shadows and helps me come home safely every day. I cannot say enough great things about this little rocket for my pocket. The L2 is an indispensable tool for me and should be a welcome addition to any tool belt, bag or glove compartment.
I have used this product for
Camping/Hunting
In The Car
Outdoors
Power Outages
Bedside
Emergencies
Gifts
Easy On/Off
Bright
Luminescent
Ergonomic Design
I have used this product for
the power buttons failed and 5.11 sent replacements had them in 2 days what can i say this is a excellent flashlight
I have used this product for
I am a full time police officer and detective. Any light that repeatedly fails to turn on right out of the box and with fresh batteries, unless I bang it against something, is not worth the price I have paid for it. As a five year swat team operator, I generally really like 5.11, hence my selection of the ATAC A2. I am very disappointed to now have to go through the customer service, return shipping waiting game for what should have been an easy purchase.
Ergonomic Design
Bright
Easy On/Off
I have used this product for
I owned several of the "junior LED" from another company. I like it but it doesn't last very long for the price (about 9 months). I use my light mainly for servicing on A/C's and gas fired furnaces in the HVAC field and love this light so far! I really love the strobe feature for safety when I'm in a questionable area, and low light option when I don't need as much light! I also trust that 5.11 will warranty their product better than the other light I own! I'm not a fan of having to carry it in my pocket so had to find a suitable belt holster that allowed me carry it in a more comfortable position! Other than that this light is the best light I've ever owned!
Luminescent
Easy On/Off
Ergonomic Design
Bright
I have used this product for
Ergonomic Design
Bright
Easy On/Off
Cheaper Batteries
Luminescent
I have used this product for
I like this flashlight so far, it shines brightly and does what I need it to do. I would like to see a lockout added to the switch, because I carry it in a pocket and it has turned on accidentally there.
Gifts
Power Outages
In The Car
Outdoors
Everywhere All The Time
Camping/Hunting
Emergencies
Bedside
Luminescent
Ergonomic Design
Bright
Easy On/Off
I have used this product for
Construction, briteness and cost win hands down. Afantastic flashlight. So much better than I expected...but then it is from 5.11