Stand with
The folds
Limited Edition T-shirt
Proudly supporting the families of Fallen and disabled American Heroes. A portion of the proceeds from your purchase will be donated to the Folds of Honor Foundation.
Folds of Honor Mission Statement
Honoring their sacrifice, educating their legacy.
Of the one million-plus dependents adversely affected by deployments to Iraq and Afghanistan, nearly nine out of 10 do not qualify for federal scholarship assistance. Folds of Honor seeks to meet this need by providing annual educational scholarships to the military families of those who have been killed or disabled while in active duty. These help support private education tuition, tutoring and educational summer camps for children K-12, as well as higher education tuition assistance for spouses and children. Since its founding in 2007, the organization is proud to have awarded over 7,500 scholarships, including over 2,000 in 2014 alone.
5.11 and folds of honor partnership
We are proud to partner with Sergeant, Ret. LeGrand Strickland to design this inaugural commemorative logo for Folds of Honor and 5.11 Tactical. With the purchase of this limited edition t-shirt 5.11 will be donating a portion of the proceeds to Folds of Honor, which will benefit servicemen and women like Sgt. Strickland and their families.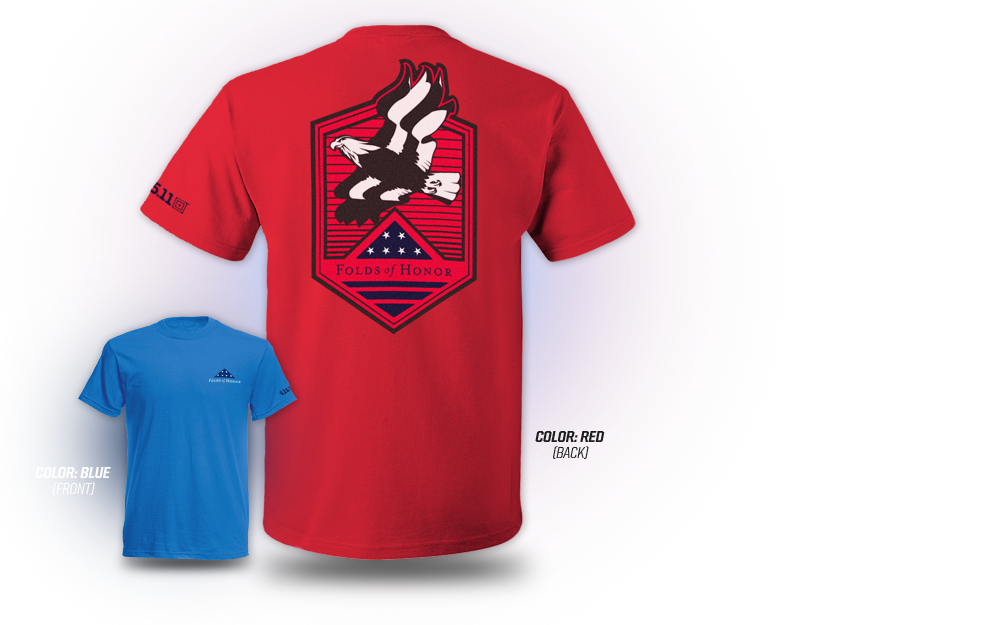 It's just a … Wonderful organization
[FoldS of Honor] … the concept of ensuring not one fallen soldier or injured soldier's family goes without the education they deserve is an exciting thing and we're proud to be a part of it.
Honoring their sacrifice, educating their legacy.
Stand with the folds