Best Tactical Pants for Everyday Wear
You need rugged, durable tactical pants for everyday wear – and they have to keep up with you at work and at play. The best tactical pants blend functionality and style so you can ALWAYS BE READY®. Find out which features and types of materials to look for, plus how to choose the perfect size, with this tactical pants guide.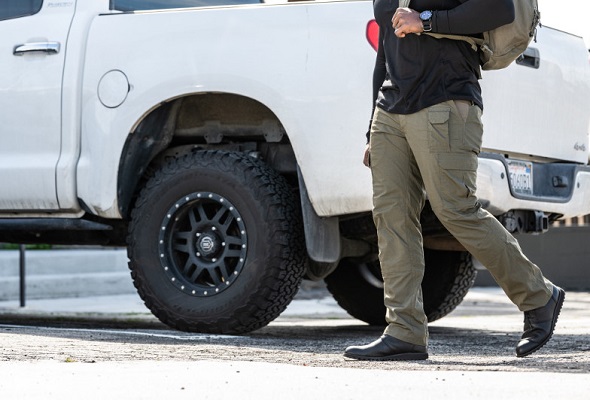 What to Look for in Tactical Pants for Everyday Wear
It's all about the features, right? You need everyday tactical pants with features like:
Lightweight and strong fabric that's easy to clean
Plenty of pockets
Reinforced stitching in key areas and flexible construction
Internal kneepad compartments
Extras like D-rings, tool straps and melamine buttons
Know Your Materials
The materials your tactical pants are made from will have a big impact on how tough, heavy and flexible they are. Usually, tactical pants are made from a blend of two or three materials, including:
Cotton
Cotton is a plant-based, natural material. It creates a soft breathable fabric, but it's not as strong as nylon or polyester.
Polyester
Polyester is a synthetic resin that creates tough, lightweight fabric. It's wrinkle-resistant, and it's not prone to shrinking.
Nylon
Nylon is a synthetic resin that creates lightweight, water-resistant fabric. Like polyester, it's resistant to shrinking and wrinkles.
Teflon® Finishes
Teflon and other finishes can fight off stains, spills and soil. They'll keep your pants looking great when you put them through the wringer – and they don't affect a fabric's weight, breathability or feel.
Pockets
The more pockets you have, the more gear you can carry. You might opt for standard five-pocket pants that help you stay low-vis, or maybe you need a little more. In that case, choose tactical cargo pants with eight or more pockets, such as:
ABR™ Pro Pants, which are device-ready and include a reinforced seat and knees, a built-in D-ring and a fade-resistant tool strap.
Fast-Tac™ Cargo Pants that include dual magazine pockets at the back yoke, a flexible and self-adjusting waistband with seven loops, and nylon reinforcement where it counts the most.
5.11 Stryke® Pants, which have a whopping 12 pockets for your gear, plus a self-adjusting tunnel waistband, bartacking at major seams and stress points, and a Teflon finish.
Reinforced Stitching and Flexibility
Your everyday tactical pants have to keep up with you when you're chasing down a suspect, diving for cover downrange or walking the beat, which means reinforced stitching is a must. CCW-ready Quest Pants are incredibly flexible and offer reinforcement where you need it most – including at the belt loops, in the front hand pockets and in the running gusset.
Kneepad Compartments and Other Features
More features equal more effectiveness, so check out how these everyday tactical chinos and pants can see you through:
Edge Chino Pants blend professionalism with mag pockets at the back yoke, a Teflon finish and a gusseted inseam.
Quantum TDU™ Pants are internal kneepad-ready and have built-in blousing straps, a comfortable waistband and ergonomic cargo pockets.
Defender-Flex Slim Jeans are just right no matter what you're doing. They feature bartacking in high-stress areas and dual back patch pockets, and they're GSA/TAA-compliant.
Finding the perfect tactical pants for everyday wear hinges on you knowing what fabric or blend to choose and zeroing in on the features you need. Once you have the right style, you're ready for whatever the day throws at you.