How Should a Plate Carrier Fit?
A plate carrier can be highly ineffective if not fitted properly. Make sure you know the right way to wear yours before heading to the gym to train or out into the field of duty. Insert the ballistic or weighted plates you'll be using and add any safety or utility attachments you need for hands-free access to essential gear on your mission. Once you have your vest fully loaded up, you can fit the plate carrier to your body for maximum protection.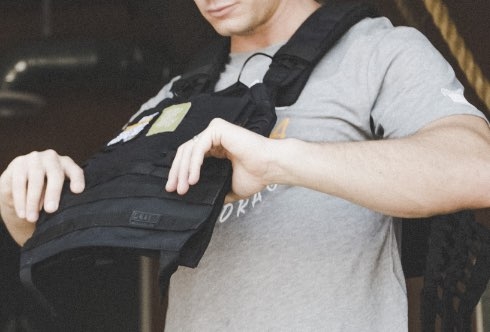 The Best Plate Carrier Setup: Comfort & Utility Features
Find a flexible, dependable and lightweight plate carrier like 5.11's innovative TACTEC Plate Carrier for ease of movement and high tactical performance, whatever your mission. Look for superior plate carrier features and materials to make wearing and carrying additional load bearing equipment and tactical accessories more comfortable and convenient.
Features to look for in the best plate carriers include:
Back yoke shoulder pads for even weight distribution
Abrasion resistant nylon
Adjustable waist and tensional bands
Extendable drag handle for emergency exfiltration
One-handed quick-release for added agility
Water-resistant coating
Oversized airflow panels
Durable hardware
Web ID loop
Elastic securing straps at the sides

Best Summer Tactical Shirts for Hot Weather

The best summer tactical shirts are comfortable, breathable and made for hot weather – and choosing your summer wardrobe hinges on your personal style, the materials you're most comfortable in and whether you need on-duty or off-duty wear.

What to Look for in Summer Tactical Shirts for Hot Weather

There are three basic styles for men's and women's summer tactical shirts:

T-shirts, which are typically lightweight and always casual.
Polos, which toe the line between casual and work apparel.
Button-ups that you can wear at informal get-togethers, while you're on the job or when you need something professional.

Vent-Tac™ and Enduro-Flex™: What You Need to Know

Two important things to look for in your summer tactical shirts are Vent-Tac and Enduro-Flex technologies. Vent-Tac is a moisture-wicking technology that helps keep you cool. Enduro-Flex is a snag-resistant, pilling-resistant and abrasion-resistant fabric that helps keep your shirts looking great, even when you're a little less than gentle with them.

Tactical Polos for Summer

Men's and women's tactical polos designed for summer heat can keep you cool and looking professional. Try these on for size:

Helios Short Sleeve Polo: This polo is made from Enduro-Flex fabric and equipped with moisture-wicking, quick-drying and anti-odor properties – a must-have for hot environments. With shoulder mic pockets for professional use, underarm gussets that help improve mobility and an embroidery-friendly pen pocket at the sleeve, this is the top for maintaining a professional appearance all summer.
Paramount Short Sleeve Polo: This polo – available in a wide range of colors and sizes – keeps you cool because it's made from moisture-wicking, 4.5-ounce polyester. Treated to tackle odors before they become an issue and featuring gusseted underarms, snaps on the placket and an angled pen pocket, this top is made for high performance. It's also resistant to snags and abrasion, so it can stand up to rough treatment.
Reflex Short Sleeve Polo: Designed to keep you mission-ready in any weather, this polo has side vents and a wicking, anti-odor finish that's perfect for hot climates. This lightweight tactical polo is set up for professional use with document pockets, mic pockets at the shoulder and an easy-reach pen pocket.

Tactical Button-Down Shirts for Hot Weather

When you need a tactical button-down for work or play, these are a great fit:

Evolution Short Sleeve Shirt: This lightweight and comfortable shirt, available in a variety of colors and designed for tactical operations, features a built-in RAPIDraw™ placket that gives you easy access to your firearm in an emergency. Made from polyester with Vent-Tac properties, this rugged-but-attractive shirt can get you through a long shift and carry you through the rest of your day.
So Swift Short Sleeve Shirt: Ready for anything you can throw at it, this shirt has a RAPIDraw placket, Vent-Tac properties to keep you dry and plenty of ventilation. It's ideal for low-vis carry while you work undercover or just want to keep a low profile, and it's available in colors that let you blend in when you need to.
Freedom Flex™ Short Sleeve Shirt: This shirt is designed for tac ops in any situation. With a moisture-wicking finish, perforated fabric on the sleeves, under the arms and at the back yoke, and mechanical stretch fabric construction, it'll keep you cool when you're chasing down a suspect, patrolling the boardwalk or pulling security. Like many of its button-down counterparts, the Freedom Flex also features a RAPIDraw placket for easy access to your gun when you need it.
Fast-Tac™ Short Sleeve Shirt: You'll be cool, calm and collected in this shirt. Made from polyester Fast-Tac ripstop fabric and coated with a water-resistant finish, this incredibly durable shirt is ideal for tucking in or wearing out. It's compatible with embroidery and patches, too, so it makes an excellent uniform shirt when you're on the job.

The best summer tactical shirts are versatile enough for on- or off-duty wear, and they're equipped with moisture-wicking properties or sewn-in vents that will help keep you cool under pressure. Shop our full assortment of summer tactical shirts for men and women to find the best lightweight options for you.

Compatibility with standard armor plates
Laser cut MOLLE/5.11 SlickStick® web platform
Our plate carriers are perfectly designed to accommodate all levels of ballistic plates, along with specialized weighted plates for training. Use the 5.11 MOLLE attachment system and sturdy webbing platform to securely attach medical kits, water bladders, extra ammo and other mission-specific tools. You can even add TacTecPlate Carrier Side Panels for additional storage and protection while on the move.
How to Put on a Plate Carrier Vest
Always start by inserting the weight training or ballistic plates you'll be using inside your plate carrier prior to putting it on. Then, add any MOLLE attachments you need to the webbing on the outside of the vest. Once you have your plate carrier loaded up, follow these tips to properly fit the load bearing gear to your body:
Center the front plate on your torso.
Adjust the shoulder straps so the top of the front plate aligns with your sternal notch, where your collarbone meets your sternum.
Make sure both shoulder straps are even so the plates lie straight.
Tighten the side straps for a snug fit.
Use a mirror or ask a friend to check that the back plate's placement aligns with the front plate.
Tug on your plate carrier to test its security.
Move around, lift your arms in the air, twist your torso and bend over to make sure the carrier moves with your body without shifting.
If the vest does shift, tighten the straps and adjust any additional accessories you have attached that interfere with the weight distribution and fit.
Plate Carrier Fit Hack: Do a few burpies in your plate carrier to quickly test the fit with full range of motion. Never wear your carrier too low, loose or wide for your frame.
Use these tips to properly load and secure your 5.11 Tactical plate carrier every time, and enjoy action-ready protection and support in any environment.