How to Wash Tactical Pants
The bulk of 5.11 Tactical® pants are wash–and–go, but there are a few things you can do to prolong your favorite gear's lifespan and eradicate all the dirt, grime, grease, and other contaminants you pick up while you're on the job, at the range, or in the field.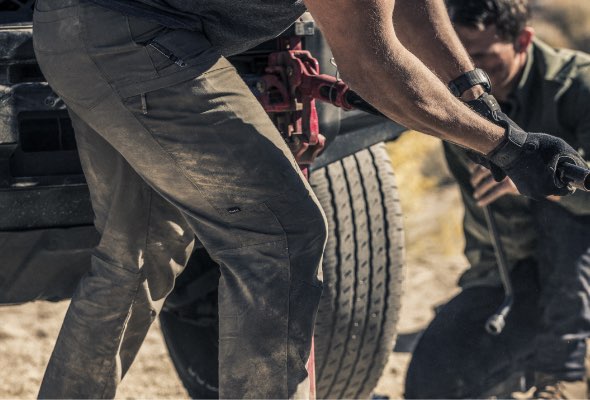 Washing Tactical Pants
If you bought them from 5.11' your pants will be labeled with the best washing practices, whether they're the 5.11 Stryke™ Pants, a pair of Taclite® Pro Pants, or another popular style. Because most tactical pants are designed to wash–and–wear, you don't have to do much to keep them looking their best. Use these instructions to get the most from every pair:
Before you wash your tactical pants' brush away and shake out as much ground–in dirt as possible.
Wash in cold or warm water only. Washing your pants in cold or warm water — never hot — preserves the colors in your pants so they hold fast and don't bleed or fade.
Wash on a gentle cycle unless you need a heavy–duty wash for heavy–duty dirt.
If they're heavily soiled' pre–soak your tactical pants. Spot–treat them if you're afraid they'll stain. Then' wash on gentle cycle.
Use ordinary laundry soap or a very mild detergent. Don't use harsh detergents with bleach' because bleach can be corrosive to the tough fibers you're trying to preserve.
Drying Tactical Pants
Most of 5.11's tactical pants can be tumbled dry on a low–heat setting without sacrificing quality' but always check the manufacturer's instructions before throwing your pants in the dryer. Again' avoid using high–heat cycles to your keep pants colorfast. Remove your pants from the dryer as soon as they're finished drying, and fold or hang them up immediately to prevent wrinkles from settling into the fabric.
If you need to hang–dry your tactical pants' use these tips to make it go smoothly and efficiently:
Use an extra spin cycle in the washing machine to remove all excess water first.
Shake out and re–shape your pants before hanging them to dry.
Avoid folding them over a clothesline' which can cause unsightly creases.
Keep in mind that drip–drying may leave your tactical pants stiffer than tumble–drying' but a quality pair will break in and stay comfortable for years when cared for properly.
Washing Tips for Tactical Pants with Special Features
Some tactical pants include special hardware and fasteners' which can wear down or stop working properly if you don't take the right precautions. Use these tips to take special care of tactical pants with Velcro® or hook–and–pile fasteners:
Secure all hook–and–pile fasteners together before washing' even if you're washing by hand.
Turn your pants inside–out before you wash them to prevent the fasteners from sticking to other clothing' and to keep them from wearing down.
Don't use fabric softener' which can coat hook–and–pile fasteners and prevent them from holding together.
Fire–resistant pants require special care, too. You should never dry–clean your fire–resistant pants because the solvents involved in dry–cleaning can damage the pants and remove the protectivecoating. Add these special tips to the general instructions above to properly wash your fire–resistant tactical pants:
Never use bleach' which can discolor the fabric and cut through the flame–resistant coating.
Avoid fabric softener. Fabric softener is usually oil–based' which can contribute to flammability.
Do not use an automatic dryer if your fire–resistant pants have reflective trim. Dryers can reduce the efficacy of reflective tape.
Remember' always wash your tactical pants according to the manufacturer's instructions. Avoid using hot water' fabric softener' bleach' or other harmful chemicals' and your pants should look and perform like you need them to for years to come.