Best Women's Tactical Gear for Law Enforcement
When you're chasing down a suspect, conducting routine patrols or escorting a detainee, you need the best women's tactical gear to keep you effective – and safe. The problem: there's so much LEO gear marketed toward women, it can be tough to figure out what's going to be best for you. This guide shows you how to cut through the noise and find the professional women's tactical gear that can help you reach your max potential on the force.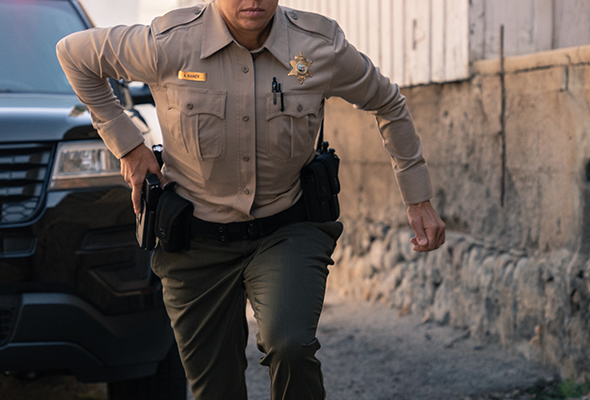 Law Enforcement Gear for Women
You'll get some required, agency-specific gear issued to you, but filling out the rest of your duty uniform is often left to your discretion. Depending on how flexible your agency is, these are the law enforcement uniform components you might be able to choose:
Tactical shirts
Tactical pants
Belts
Boots
Other tactical accessories
Most of your gear requirements will be the same as your male counterparts' needs. What sets the best tactical gear for women LEOs apart from the gear designed for men is attention to fit and detail – that's why 5.11 consults with seasoned operators to ensure all our women's tactical gear performs under pressure.
It can take years to perfect a single design, but it's worth it to provide purpose-built law enforcement tactical gear that helps you stay safe and perform. Here are our top tips to help you pick the best women's tactical duty gear.
Tactical Shirts for Female LEOs
Your top needs to be breathable to keep you comfortable in any situation, and it can't restrict your movement – that could jeopardize your safety. These are the features you should look for in a long-sleeve uniform top or short-sleeve top for female law enforcement officers:
Knit underarm gussets
Abrasion-resistant fabric on stress points
Water-resistant finish for inclement weather
Chest pockets and sleeve pockets
Women's Tactical Pants
You don't need bulky, uncomfortable pants that are too loose in some places and too tight in others. You need lightweight, low-profile pants that move with you and don't constrict your waist, legs or anything else. Look for features these features in your women's law enforcement tactical pants:
Comfort waistbands that feature stretchy fabric panels
Media pockets
Reinforced front, back and cargo pockets
Ripstop fabric
Pant Hack: Avoid pants with too high of a waistband, which can interfere with holster placement and draw. Instead, look for a mid-rise tactical pant made with direct input from female operators, like our XPRT® Tactical Pant.
Whatever tactical pants you choose, make sure they aren't just smaller versions of a men's pant design. For a proper fit that supports peak performance in the field, you want tactical pants with carefully chosen and placed special features that are made for a woman's body.
Tactical Accessories for Women Officers
An effective uniform doesn't stop with pants and a top – it also requires tactical accessories to enhance performance, like boots, belts, holsters and mag pouches.
Boots
Boots are one of the most important components of any LEO's uniform. You have to find a durable, reliable pair that's lightweight enough to preserve your agility and speed and still protects your feet. Here's what to look for in women's tactical boots:
Puncture-resistant material
Side zippers
Open-cell foam cushioning
Ortholite® insoles
Crush-proof shanks
Moisture-wicking liners
Leather and nylon uppers
ATSM certified safety toes
Belts
As a law enforcement professional, you demand a lot more from your tactical belt than simply holding up your pants. It has to be strong, durable and compatible with your holster, mag pouches and radio pouches, and other add-on gear. Here's our list of must-have features for law enforcement belts:
Durable nylon webbing construction
Impact-resistant buckles
Water resistance
MOLLE or 5.11 SlickStick® compatibility
Add-ons and Other Gear
Keeping yourself and the people you're sworn to protect safe is a lot easier when you have performance-enhancing gear configured in the most comfortable way. Complete your duty uniform with these basic tactical accessories:
MOLLE vest or plate carrier you can modify for each specific mission
Pistol magazine holders you can attach to your tactical belt – plus plenty of spare ammo
Dump pouches for empty mags
Radio pouch you can attach to your 5.11 belt or vest
TAA-compliant tactical gloves with hard knuckles, phone-touch features and impenetrable construction that won't get damaged by needles or other sharps
A tactical flashlight and headlamp that are lightweight enough to carry anywhere and powerful enough to illuminate a large area
A tactical medical kit or IFAK you can keep on your vest or in an assault pack
The best tactical gear for women in law enforcement suits your specific body shape, offers purpose-driven and durable performance, and is easy to clean and maintain when you're pulling shift after shift. Shop 5.11 for high-quality law enforcement gear for women that's designed to prepare you for whatever the workday throws your way.