Finding the Best Concealed Carry Jacket for You
When you leave home, you carry – it's just what you do. Wearing a concealed carry jacket can help keep you safe by providing easy access to your firearm without advertising the fact that you have it. To achieve this, your CCW jacket needs to cover the following bases:
Fits well
Compliments your draw
Is durable and versatile enough to wear in all kinds of weather conditions
Is breathable and flexible so you can move easily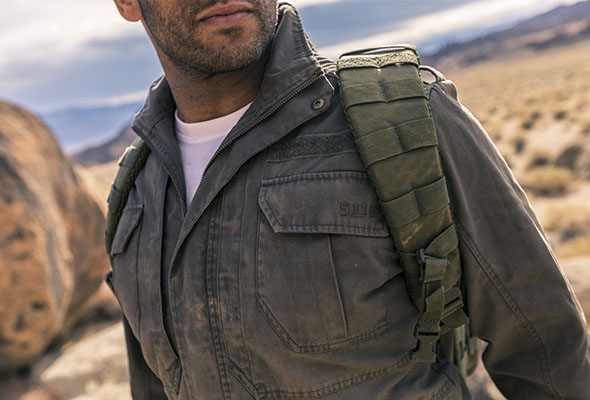 The Best Concealed Carry Jacket Features
The most important component of a concealed carry jacket is its hidden sidearm pocket. Some jackets have compartments on both sides for left- or right-handed draw – some don't. So, the first order of business is picking outerwear that gives you the access you need.
Other important features in a concealed carry jacket include:
Adjustable cuffs to keep your sleeves secure
Insulating technology that will keep you warm
Underarm zippers for breathability
Extra pockets for magazines, documents (like your concealed carry permit) and other essentials
Glove-friendly zippers you can manage in bad weather
A removable or storable hood
Waterproof, seam-sealed fabric
Tips for Finding the Right Concealed Carry Jacket
Before you worry about style or size, it's important that you choose a concealed carry coat that has all the utility features you need. Remember these tips:
If you wear a duty belt, your outerwear needs to be the right length. The "Ike Length" design on our Tempest Duty Jacket offers easy access to a belt.
Reflective or high-vis materials and accents are helpful whenever you're on duty or carrying in low-light conditions.
Multiple pockets, including hidden inner pockets and badge or ID holders, are essential if you're carrying gear because you're on duty.
Pick a jacket that you actually like andthat fits you comfortably. If you don't like it, you're not going to wear it – and it's not going to do you any good in your closet.
Properly Fitting a Concealed Carry Jacket
Men's and women's concealed carry jackets from 5.11 are designed differently to provide the best fit. Men need neck, chest and arm length measurements to get a jacket that fits properly, while women need to know their chest and arm length measurements. 5.11 CCW jackets labelled "tall" have 2 inches added to body and sleeve length for the perfect fit.
Fit is usually a personal preference, but when it comes to concealed carry outerwear, it's important that you look for a middle-of-the-road fit. If your jacket is too snug, it'll be obvious that you're carrying. If it's too loose, the extra fabric can get in the way when you need to draw your gun. Remember that if you wear a duty belt for work, your jacket will have to sit above the belt so you can still access your radio and other essential gear.
Finding the right concealed carry jacket for your needs takes a little research and planning, but if you choose wisely, you'll stay comfortable and agile without compromising your safety.