How Should a Plate Carrier Fit?
How Should a Plate Carrier Fit?
A plate carrier can be highly ineffective if not fitted properly. Make sure you know the right way to wear yours before heading to the gym to train or out into the field of duty. Insert the ballistic or weighted plates you'll be using and add any safety or utility attachments you need for hands-free access to essential gear on your mission. Once you have your vest fully loaded up, you can fit the plate carrier to your body for maximum protection.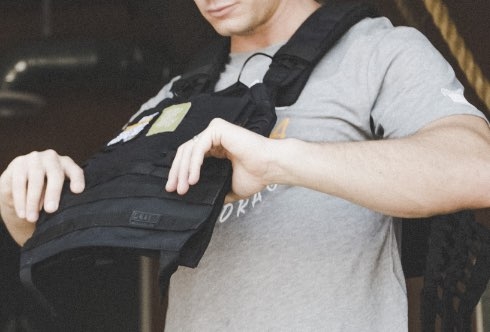 The Best Plate Carrier Setup: Comfort & Utility Features
Find a flexible, dependable and lightweight plate carrier like 5.11's innovative TACTEC Plate Carrier for ease of movement and high tactical performance, whatever your mission. Look for superior plate carrier features and materials to make wearing and carrying additional load bearing equipment and tactical accessories more comfortable and convenient.
Features to look for in the best plate carriers include:
Back yoke shoulder pads for even weight distribution
Abrasion resistant nylon
Adjustable waist and tensional bands
Extendable drag handle for emergency exfiltration
One-handed quick-release for added agility
Water-resistant coating
Oversized airflow panels
Durable hardware
Web ID loop
Elastic securing straps at the sides
Compatibility with standard armor plates
Laser cut MOLLE/5.11 SlickStick® web platform
Our plate carriers are perfectly designed to accommodate all levels of ballistic plates, along with specialized weighted plates for training. Use the 5.11 MOLLE attachment system and sturdy webbing platform to securely attach medical kits, water bladders, extra ammo and other mission-specific tools. You can even add TacTecPlate Carrier Side Panels for additional storage and protection while on the move.
How to Put on a Plate Carrier Vest
Always start by inserting the weight training or ballistic plates you'll be using inside your plate carrier prior to putting it on. Then, add any MOLLE attachments you need to the webbing on the outside of the vest. Once you have your plate carrier loaded up, follow these tips to properly fit the load bearing gear to your body:
Center the front plate on your torso.
Adjust the shoulder straps so the top of the front plate aligns with your sternal notch, where your collarbone meets your sternum.
Make sure both shoulder straps are even so the plates lie straight.
Tighten the side straps for a snug fit.
Use a mirror or ask a friend to check that the back plate's placement aligns with the front plate.
Tug on your plate carrier to test its security.
Move around, lift your arms in the air, twist your torso and bend over to make sure the carrier moves with your body without shifting.
If the vest does shift, tighten the straps and adjust any additional accessories you have attached that interfere with the weight distribution and fit.
Plate Carrier Fit Hack: Do a few burpies in your plate carrier to quickly test the fit with full range of motion. Never wear your carrier too low, loose or wide for your frame.
Use these tips to properly load and secure your 5.11 Tactical plate carrier every time, and enjoy action-ready protection and support in any environment.