How to Use Your Plate Carrier: Gym vs. Law Enforcement
Plate carriers, used in the gym to reach peak fitness and on the streets to keep LEOs safe, are a hybrid of body armor and load-bearing equipment, or LBE. Designed for use with ballistic panels or weights, plate carriers offer plenty of benefits for hard-core workouts and for law enforcement professionals – but they're two very different purposes that require different methods for use.
Using a Plate Carrier at the Gym
If you know how to use a plate carrier in the gym, you can get more from any workout. They're a great alternative to weight vests, provided that they fit you properly and distribute the load you're carrying correctly. Because they're more versatile than traditional weight vests, you can comfortably wear a plate carrier doing planks, sit-ups and pushups, Iron Mikes, lunges and a range of other body weight exercises.
Weight Vests vs. Plate Carriers
Weights vests are different from plate carriers. Both add extra resistance to body-weight exercises, like pull-ups, running and jumping rope, but they're fundamentally different in shape, load-bearing capability and weight distribution. Weight vests let you add weight in small increments, up to a certain point, and they're usually only designed to carry weights specifically made for the vest. Plate carriers start at a certain weight – the weight of your plates – and are often designed with a MOLLE system to let you add and distribute weight wherever necessary.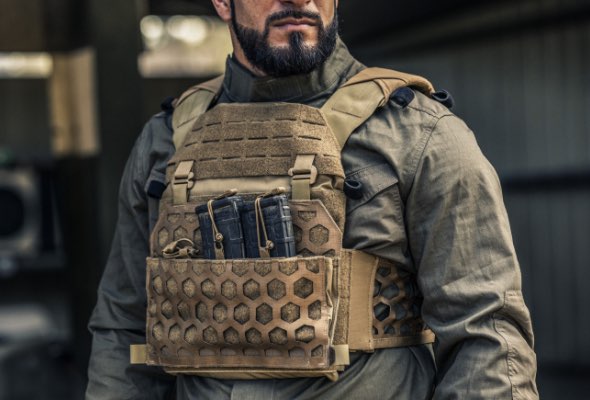 Using a Plate Carrier in Law Enforcement
Your organization, department or unit has its own regulations on which types of plate carriers you're permitted to wear and how to use them. Always refer to your SOP before you choose a plate carrier and before you make any changes to the way you use it.
What to Look for in a Law Enforcement Plate Carrier
Weight and protection are the two most important concerns in a law enforcement plate carrier, but comfort runs a close third – if you're struggling all day to stay comfortable, you're going to be less effective on the job.
Find the Best LEO Plate Carrier for You
When you choose a law enforcement plate carrier, you need a low profile, high-mobility model that doesn't hold you back from getting things done. Here are a few options for body armor and plate carriers that can help keep LEOs safe.
| | | |
| --- | --- | --- |
| All Mission Plate Carrier | Men's HEXGRID Uniform Outer Carrier | Women's HEXGRID Uniform Outer Carrier |
| | | |
| The All Mission Plate Carrier fits any ESAPI plate and features the patented HEXGRID® multi-angle load-bearing platform. | The men's HEXGRID Uniform Outer Carrier fits third-party soft body armor panels and features the HEXGRID load-bearing platform to allow you to customize what you carry. | The women's HEXGRID Uniform Outer Carrier has all the same features as its men's counterpart but is designed specifically for women's plates. |
Choosing the right plate carrier for working out or for work in law enforcement really depends on what you need to accomplish. While you can wear your LEO plate carrier during a workout, most people choose to use separate models for each to minimize wear-and-tear and keep the LEO model in operational condition.