Business Ready: Benefits of Casual Tactical Wear
When you're working in law enforcement, security or any other line of work that requires you to keep your head down and your awareness up, you need tactical apparel packed with benefits – clothes that let you carry concealed, give you the flexibility you need to move quickly and keep you comfortable no matter what's going on around you. Stay low-profile and be ready for anything by choosing casual tactical clothing that feels like it was designed for you and your mission.
It's a balance between finding the right mission-ready features (like the ability to carry concealed or insert kneepads), the right look and the best fabric and construction. But finding the right casual tactical clothing, including shirts, pants and shoes, doesn't have to be hard. This guide explains how to choose the right tactical gear for specific missions, meetings or everyday wear.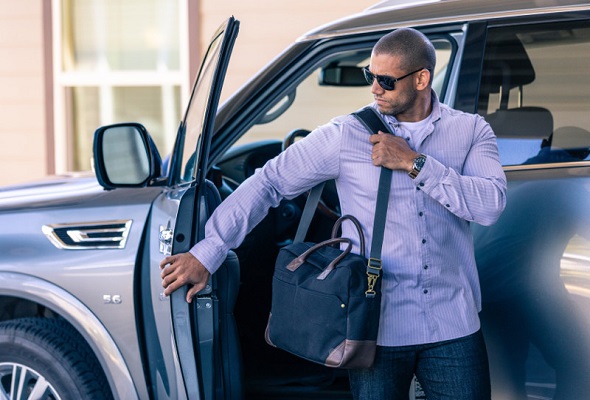 Casual Tactical Shirts
Tactical shirts – shirts made for function and agility – come in a huge range of styles, including CCW. Pick a long- or short-sleeved tactical polo made with moisture-wicking fabric and a no-roll collar that's designed for first-responders, or choose a men's tactical button-up that lets you tuck your firearm comfortably at your side.
Women's tactical polos, tailored for comfort and flexibility, and women's concealed-carry shirts are available for every job, lifestyle and fit.
What to Look for in a Tactical Shirt
Abrasion-resistant fabric
Bartacking at stress points
Moisture-wicking fabric
RapiDraw™ or similar plackets
Stretch collar
Wrinkle resistance
Tactical Pants for Everyday Wear
Tactical pants need to be flexible, versatile and comfortable, but they also need to provide you with functionality that regular pants can't. They need to let you keep a low profile when camo pants are too informal – or too obvious – and they give you the ability to do what you were trained to do without holding you back.
What to Look for in Tactical Pants
Action, elastic or fitted waistband
Bartacking at major seams and stress points
Double-reinforced seat and knees
Gusseted construction
Kneepad-ready knees
Lightweight fabric
Ripstop fabric
Stain-resistant finish
Tactical pockets
Casual Tactical Shoes
When you have a fraction of a second to react, your shoes better keep up. Tactical shoes are made to help you spring into action or hold your position without cramping your style or your toes. Shoes like the Mission Ready™ Oxford or the Mission Ready Chukka are perfect when you need a casual, relaxed look but still need to be ready for anything.
What to Look for in Casual Tactical Shoes
Ankle foam
Antimicrobial liner treatment
Deep treads for traction
Full-grain leather uppers
Light midsoles that absorb shock
Non-marking rubber outsoles
OrthoLite® molded foam insoles
The right tactical apparel gives you flexibility to move through a crowd, de-escalate a serious situation or tackle a tough job without holding you back. Of course, you can find everything you need to outfit yourself for peak performance at 5.11 Tactical, including tops, pants, shoes and tactical accessories.