How to Choose an EMS Base Layer
As a first responder, you need clothing that keeps you comfortable all day – and sometimes even longer – during bad weather, frigid temperatures and less-than-optimal conditions. You can't afford to let the environment or your clothes hold you back from getting the job done. Whether you're working in hot or cold weather, wearing the right base layer under your EMS clothing is essential.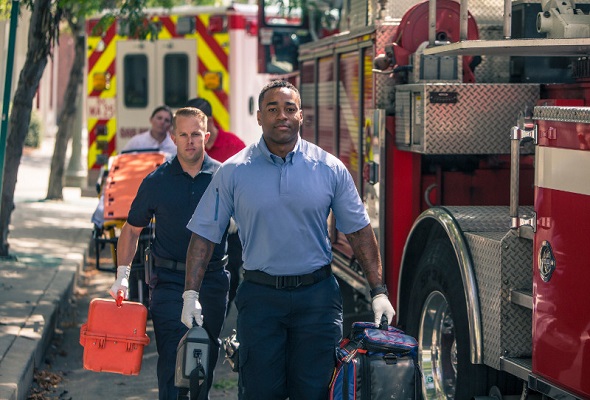 Why Wear Base Layers?
Your base layer – the layer of clothing against your skin – helps regulate your body temperature. Choosing moisture-wicking materials will keep you comfortable and dry, but there's more to it than that. Wearing a base layer beneath your first-responder uniform lets you take off or add more clothing without a lot off hassle, depending on how the temperature is affecting your performance.
If you wear thick clothing instead of layering a base layer with lighter clothing, you're more likely to sweat and not be able to do anything about it. Once you sweat in thick clothing, you're going to stay damp until the end of your shift.
Pro Tip: Carry an extra base layer when you're on the go. Because they're lightweight and thin, you can even roll up your spare base layers and stash them in a cargo pocket.
What to Look for in Base Layer Clothing
Different activities require different types of base layers. Moisture-wicking material is appropriate for most conditions, but your environment and the type of work you're doing will dictate the other base layer features you need. Here's a list of what to look for in base layer clothing so you can make sure you're investing in something that's going to work for you:
Antimicrobial fabric that inhibits odor
ASTM compliance
Flat seams that reduce friction and prevent chafing
NFPA compliance or certification
Nomex threading
Quick-drying fabric
Tagless labeling
Underarm gusset panels
Silk, Wool or Synthetics: What Makes the Best Base Layer?
Most base layers – at least the effective ones – are made from silk, wool or synthetics. Each has its own pros and cons. Check out the table below to figure out what material is right for you.
Material

The Basics

Pros

Cons

Silk

Silk is a natural fiber that's known for being super-soft against your skin. Silk base layers are usually treated with chemicals to enhance their moisture-wicking properties and keep you dry.

Moderately breathable

Moisture-wicking

Soft texture

Usually more affordable than wool

Very lightweight

Can be more expensive than synthetics

Not as breathable as wool

Shrinks with improper care

Special care required

Wool

Merino wool is very soft and lightweight. It can hold 30 percent of its own weight in water (sweat) before you'll even feel it on your skin.

Elastic

Lightweight

Natural

Odor-resistant

Stain-resistant

Very breathable

Very moisture-absorbent

Wrinkle-resistant

Can be more expensive than silk and synthetics

Dries slowly

Heavier than silk or synthetics, but not significantly

Shrinks with improper care

Special care required

Synthetics

Synthetic base layers are usually made from nylon, polyester or polyester blends. They provide a very snug fit and are usually abrasion-resistant.

Abrasion-resistant

Affordable

Breathable

Dries quickly

Easy to care for

Exceptionally lightweight

Moisture-wicking-capable

Snug

Little odor protection (unless it's treated)

Made from petroleum-based fibers

Provides slower temperature regulation than wool
How Base Layers Should Fit
Your base layer needs to fit snugly against your body. In cold conditions, it's a good idea to wear two base layers – one that's really snug and one that slips right over the first. You can start with something like the Tight Crew Short Sleeve Shirt beneath an FR Polartec Long Sleeve Crew if you know you'll need multiple base layers. Sub Zero Leggings are a great addition beneath uniform pants, jeans or tactical pants in any conditions, too.
Choosing the right EMS base layer really hinges on how active you'll be and what the weather is like. You definitely need base layers with moisture-wicking and odor-resistant properties, and silk, wool and synthetics provide both.