Finding the Best Tactical Shirts for Your Lifestyle
You shoot better when you're comfortable, and that's true from the beat to the range. Being comfortable means finding tactical shirts that suit your lifestyle – here's how.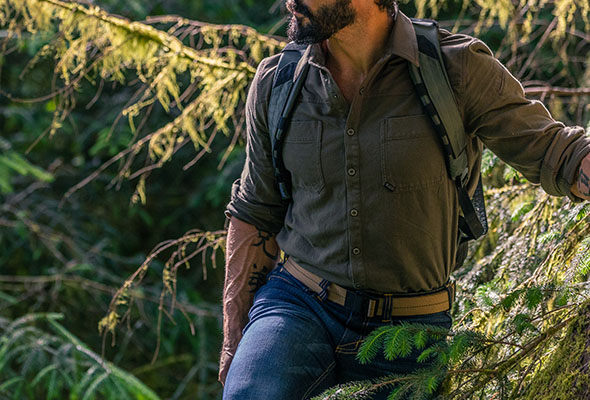 Lifestyle-Driven Tactical Shirts
If you're patrolling a high-activity neighborhood, you'll need a different type of tactical shirt than you'd need if you were practicing at the range or pulling all-night security on a remote outpost in a foreign country. Here are some guidelines to help you find the right fit.
Which Shirt Do You Need?
Before you start shirt shopping, zero in on what you need. Based on your personal fit preferences, where you'll wear your tactical top and what you'll be doing, you can narrow your choices. Here's what to consider:
The best tactical shirts work hand-in-hand with what you're already doing, and they don't require you to make any adjustments. You might need a tactical uniform top, a tactical shirt that lets you blend in, or a women's top designed for both function and comfort. The key is finding a shirt that offers the features you need, fits well and keeps you comfortable so you can accomplish the mission.
Features to Look For in Any Tactical Shirt
Tactical tees and other tactical tops come in dozens of styles and offer a wide range of features. These are some features that distinguish the best tactical shirts from their mediocre counterparts:
Breathability. A good tactical top promotes good air flow so you're not stifled by the heat or the action.
Versatile and flexible fabric. You need to be able to move between targets, chase down a suspect or train as you fight, and you don't have time for your shirt to restrict your movement.
Rip-stop fabrics. Don't can't let a literal snag hold you back.
Reinforced seams and double-fabric stress points. When you're moving, the last thing you want to worry about is whether you're going to pop a seam.
Mission-Dependent Features for Tactical Shirts
If you aren't following a unit SOP or guidelines, the tactical shirt you choose just has to fit you properly and help you get things done. Here are some key features that can make or break a tactical top in your wardrobe:
RAPIDraw™ plackets. If you need to pull your firearm, you need a fast, easy way to do it.
Forward-shifted shoulder seams. Long shifts feel longer when your shirt's seams are grinding into your skin – especially if you're wearing a pack or plate carrier.
Extra pockets. Depending on the mission and your role, document pockets, concealed-carry compartments, badge pockets or all of the above might be essential.
Heat capes and mesh vents. Staying comfortable includes staying cool in arid environments, so the little "extras" that further promote airflow may be a primary concern.
Finding the right tactical shirt for your lifestyle or work environment can make a huge difference in how much you enjoy what you're doing. There isn't a specific tactical tee or button-down that's right for everyone – let your preferences and mission requirements dictate the tops you choose.