What Are Tactical Shirts?
An advanced tactical shirt can help you maintain peak performance while hunting, hiking, fishing, training for or executing a high-stakes mission, or heading out for another hard day on the job. Made to keep you comfortable while withstanding rough treatment and securely holding onto everything you need to get the job done, the right tactical shirt can quickly become your go-to uniform – on or off duty.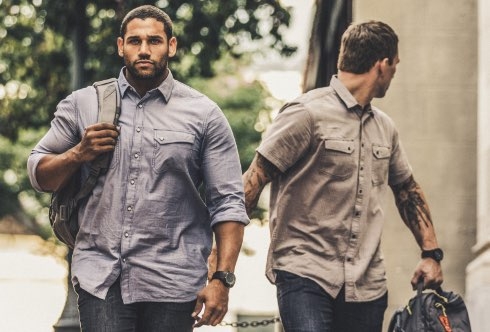 Features to Look for in a Tactical Shirt
The tactical shirts you choose need to perform, just like you do. Zero-in on the features that are most important to you, based on the specific kinds of work or play you plan to do.
Tactical Shirts for Work or Duty
Here are some important features to look for in tactical shirts for law enforcement, military, paramilitary, and other professional uses:
Rip-stop fabric that won't unravel or fray.
Easy-access pockets that have room to expand.
Concealed pockets that let you tuck away important documents and items.
Button-down collar stays.
Reinforced elbows to protect your skin at the most common contact points.
Pen pockets for extra convenience.
Button cuffs and roll-up loops for versatility in any environment.
RAPIDraw™ plackets that give you fast, secure access to your firearm.
Tactical Shirts for the Outdoors
If you're working or playing in the great outdoors, you may want additional features from the clothing you wear. Here are a few tactical shirt design specifications to look for before heading outdoors:
Heat capes or mesh vents to keep you cool while you operate.
Soft, stretchable fabrics that offer maximum mobility.
Roomy, bellowed pockets that let you stash extra gear.
Tactical camouflage that helps keeps you hidden.
Double-fabric elbows and other stress-point reinforcements for durability.
Women's and Men's Tactical Shirts by 5.11 Tactical®
Made for the toughest operators with specific features to support a range of tasks, our lines of men's tactical shirts and women's tactical shirts offer advanced construction to tackle any challenge you face. Innovative, experienced designers work hand-in-hand with the real boots on the ground to develop premium tactical shirts that enhance performance. Reliable, durable, and versatile, our concealed carry tops and tactical duty shirts are purpose-built for superior protection and comfort in a range of environments.
Mission-Dirven Features of 5.11 Tactical Shirts
Each tactical shirt we design is packed with great features to support your performance. Look for the following product specifications to find the best tactical shirts for your next mission – work or play:
Forward-shifted shoulder seams that won't irritate your skin when you're wearing a pack or sling.
Extra pockets sized just right for tactical use.
Perforations in the back, underarms, or sleeves or sewn-in heat capes that enhance ventilation.
Bartacking along seams and stress points.
Hidden mesh document pockets that keep important papers safe but accessible.
Pen pockets in convenient spots, such as the left sleeve or center button seam.
Comfortable, flexible, yet durable fabrics, like brushed flannel with elastane.
Moisture-wicking, quick-dry fabrics to keep you cool.
Teflon® treatments for stain, soil, and liquid resistance.
Melamine buttons that won't burn, crack, or melt.
Gusseted underarms for maximum mobility.
Choosing the Right Tactical Shirts and Accessories
There's no one-size-fits-all solution for a tactical shirt. Your preferences, position, or passions should dictate which features are right for you. Use the lists above to determine the perfect tactical shirt features for your next mission, and get everything you need to perform at 5.11 Tactical.