3 Kinds of Women's Tactical Pants You Can Wear Anywhere
When you're building out your wardrobe, it pays to have tactical pants you can wear anywhere. Women's tactical cargo pants, tactical leggings and jeans that can cross over from the range to work are the perfect addition to your closet. Women's tactical pants by 5.11 come in a wide array of styles, colors and sizes so you can find exactly what you need for each facet of your life.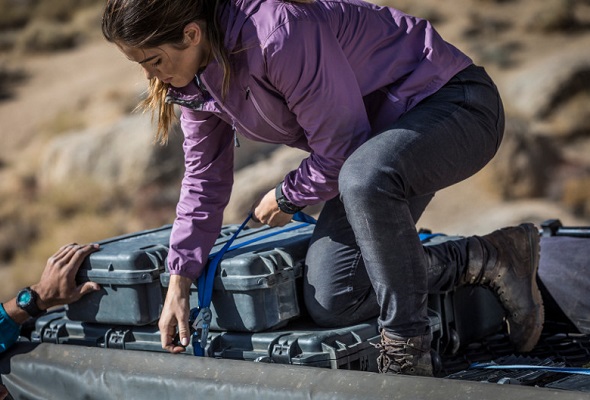 Here are three of our favorite kinds of tactical pants for women, plus recommended styles for each.
1. Women's Tactical Cargo Pants
Women's tactical cargo pants have plenty of pocket room and they're flexible enough to let you get the job done. The right cargo pants are ideal for work, the range or everyday wear, such as the Mesa Pant and women's 5.11 Stryke Pant.
5.11 Stryke Pant for EDC & Tactical Missions
Designed for all-day, everyday wear you can rely on, women's 5.11 Stryke Pants were carefully engineered with input from experienced female operators. Made from 2-way mechanical stretch fabric with ripstop technology, finished with Teflon to prevent stains and available in a wide array of colors, the Stryke Pant includes ample pockets for extra magazines, multi-tools and your other EDC gear.
What to Look for in Women's Tactical Cargo Pants
The best women's cargo pants include these or similar features:
Articulated knees
Contoured waistbands
Flex-Tac ripstop fabric
Gussets
MAG pockets
Nylon reinforcement in the pockets
Teflon® finish
Wide belt loops
Zippered cargo pockets
2. Leggings
Tactical leggings – also called range tights – are engineered to help you move freely while you're at the range, mastering downward-facing dog or out running errands. They give you the ability to carry comfortably and offer superior comfort when you're on the go.
Raven Range Tight for Flexible Operators
The Raven Range Tight, made from Ponte di Roma fabric that's incredibly breathable and stretchy, gives you the same comfort your favorite yoga pants do – but they're far more tactical. Available in capri and ankle-length styles, these range tights feature belt loops and abrasion panels for your belt and holster.
What to Look for in Tactical Leggings
Here's a list of features to look for in tactical leggings:
Abrasion panels
Belt loops
Elastic waistband
Moisture-wicking capabilities
Stretchy, breathable fabric
3. Tactical Jeans for Women
Tactical women's jeans are the perfect complement to any wardrobe. Because they're so versatile, you can wear them from work to the range and anywhere in between – just pair them with the right top, jacket and boots, and you'll be ready to handle whatever the day brings.
Women's Defender-Flex Slim – Your Go-To Tactical Jeans
Defender-Flex Slim Jeans are made to cross over. Featuring a total of 8 pockets, with two hidden AR magazine pockets, dual back patch pockets and two welted Device Ready pockets, these jeans are as tough as you are. They're perfect for work, casual days and running through targets at the range.
What to Look for in Tactical Jeans
Mag pockets
Reinforced belt loops
Riveted, reinforced pockets
Stretch fabric for comfort
Sturdy waistband
The best tactical jeans for women work with your existing wardrobe, are easy to dress up or down and give you a flattering fit. Each of the pants above fit the bill, but now that you know what to look for, you can explore all the options from our new arrivals, shorts and other women's tactical apparel.