How to Size Women's Tactical Pants
Before you invest in a new pair of high-performing women's pants from 5.11, you want to be confident that you're buying the correct size and fit for your body. Properly fitting tactical pants let you move with peak flexibility and agility during both professional and recreational pursuits.
Follow our simple steps to measure your waist, and then use the 5.11 size chart and inseam information below to find the perfect pant size for you.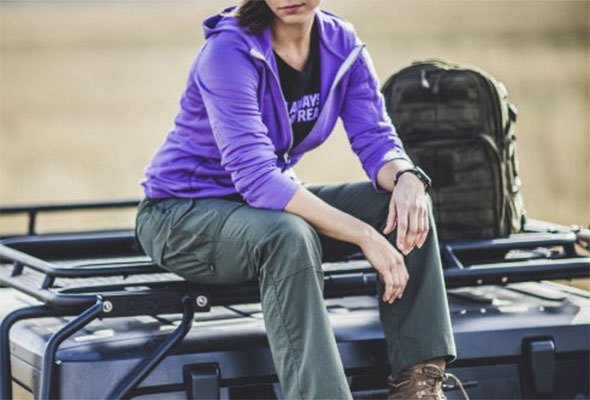 Step 1: Learn How to Measure Your Waist
Grab a tape measure, and use our quick and easy steps to figure out your waist measurement in inches or centimeters.
Lift or take off excess clothing so your stomach is bare.
Find your true waist, located between the top of your hips and the bottom of your ribs, in line with your belly button.
Choose a starting point, like the belly button, and place the end of the tape measure (where it's marked zero) directly on this spot.
Wrap the tape measure completely around your waist until it meets the zero at your belly button.
Pull the tape measure snug, making sure there are no rolls or creases in the material. Don't restrict your stomach by pulling too tight, or you could end up with a size that's too small.
Find the number on the tape measure that touches the zero mark to determine your measurement in inches or centimeters.
No tape measure? No problem. If you don't have a tape measure handy, you can use a piece of string instead. Wrap the string around your waist, trim or mark it to size, and then simply measure the length from end to end with a ruler to confirm your waist's circumference.
Step 2: Match Your Size
Once you know your waist measurement in inches, you can locate the correct 5.11 women's pant size by matching it to our sizing chart below:
| | | |
| --- | --- | --- |
| Waist in Inches | Waist in Centimeters | 5.11 Pant Size |
| 25 | 63.5 | 2 |
| 26 | 66 | 4 |
| 27 | 68.6 | 6 |
| 28 | 71.1 | 8 |
| 29 | 73.7 | 10 |
| 30.5 | 77.5 | 12 |
| 32 | 81.3 | 14 |
| 33.5 | 85 | 16 |
| 35.5 | 90.1 | 18 |
| 37.5 | 95.3 | 20 |
Step 3: Choose Your Inseam
In addition to size and color choices, most of our women's pants come with at least two of the following inseam choices: short, regular and long. To figure out your ideal inseam, grab a pair of tactical pants that fits you well without dragging on the ground, and measure the length of the inside seam from crotch to hem in inches. That number is the length of your inseam.
The specific length of the inseam you choose from 5.11 will vary proportionate to your size. For example, our popular Women's 5.11 Stryke™ Pant comes in both regular and long inseams. The regular inseam varies from 30 to 32 inches, while the length of the long inseam ranges from 33 to 36 inches, based on size. Consider both your size and leg length to choose the best inseam for you.
Step 4: Find the Perfect Fit
If you can head to a local 5.11 store to try on a few pairs of pants, you're sure to find the perfect fit. If you order your new pair online, try them on as soon as they arrive. In most cases, 5.11 accepts returns and exchanges within 30 days of purchase (exclusions apply). Once you have your new pants on, move around to get a sense of how the pants feel in action and to assess the amount of give the material will provide.
Properly fitting tactical pants should:
Feel comfortable while sitting, standing and moving.
Provide a full range of motion while maintaining original shape.
Include strong pockets and wide, sturdy belt loops that won't get weighed down by gear.
Properly fitting tactical pants should NOT:
Feel too loose or baggy.
Restrict movement.
Drag on the ground.
Now that you know how to size 5.11's tactical pants for women, you can shop with more confidence. Browse all our women's pants to find the most popular styles and read product reviews from real customers, and refresh your tactical wardrobe with perfectly fitting new pants today.