Cleaning Hi-Vis Jackets: Maintenance and Stain Removal Tips
Hi-vis jackets, reflective vests and other tactical outerwear can save your life in a tough situation – but they're far less effective if you don't clean them properly. Dirt, dust and grime can grind away a hi-vis jacket's fluorescent color and damage the microscopic glass beads on retroreflective tape, making the garment useless when you need it most.
Keep your hi-vis jackets in great shape, even after extensive use, with these quick tips from 5.11 Tactical®.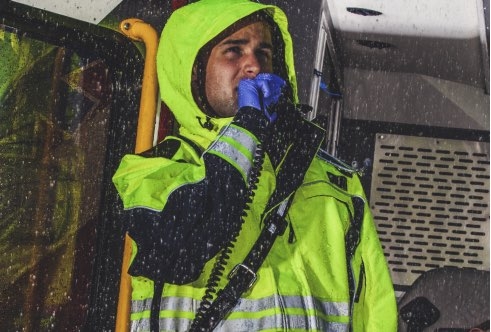 How to Clean High-Visibility Jackets
To keep reflective outerwear in the best shape possible in between uses, follow these steps:
Before you wash a high-visibility jacket, remove loose dirt and debris with a clean, dry cloth. During a normal wash cycle, excess dirt can act as an abrasive.
Read the wash and care instructions on the jacket or shirt's tag, which will explain special precautions you need to take to clean your garment.
Machine-wash your hi-vis apparel with like colors in cold water only.
Use the "delicates" cycle on your washing machine with a mild detergent.
Don't wash jeans, work clothes or other rough fabrics (including those with hook-and-pile fasteners) when washing reflective or neon clothing. Rough fabrics and fasteners can pull away the reflective heat transfer film that makes you more visible in low-light conditions.
How to Remove Stains From Hi-Vis Clothes
Working in environments that require high-visibility jackets and other apparel can get pretty messy, so it's no surprise that your high-visibility jackets are susceptible to stains. Here are some tips for removing stains from reflective fabrics:
Gently wipe stubborn areas using a clean, dry cloth and a mild stain remover.
Only use stain removers that are marked safe for bright colors and don't contain bleach.
Never scrub the color-enhanced fabrics on hi-vis clothing because you could create a splotchy or worn appearance that reduces reflectivity and could ultimately put you at greater risk of not being seen.
How to Dry Hi-Vis Apparel
If possible, line-dry your hi-vis clothing without exposing it to direct sunlight. Direct sunlight can fade the garment's bright colors. If you can't line dry, here are some tips for machine drying your hi-vis clothing:
Check your garment's tag to make sure it's safe to machine dry it.
Use your dryer's lowest heat setting – no heat is preferable – to avoid damaging the heat transfer film or the adhesive that holds the reflective stripes in place.
As soon as the cycle is complete, remove your jacket to ensure the reflective tape doesn't permanently crease.
Once dry, put your hi-vis jacket on a hanger until you're ready to wear it again to keep it in pristine condition.
Quick Tips for Cleaning, Drying and Caring for Hi-Vis Jackets
Here's a recap of the most important tips to safely and effectively clean and care for your hi-vis jackets and clothing:
Remove excess dirt before washing.
Address stains immediately according to the instructions on the garment's tag.
Hand-wash or machine-wash on your washer's "delicates" cycle with a mild detergent.
Don't use fabric softener or bleach.
Use only gentle stain removers that don't include bleach (and only when necessary).
Line-dry hi-vis jackets or use the "no heat" setting on your dryer.
Remove hi-vis clothing from the dryer as soon as the cycle is complete.
Hang up hi-vis jackets when not in use to keep the reflective tape in good condition.
---