What is a Tactical Polo?
A tactical polo combines the classic, professional shirt style you love with elevated design elements built for high-performance, mobility, all-day comfort and long-term durability. This purpose-built construction lets you move with maximum agility and precision while maintaining the clean, uniform appearance that's ideal for tactical work duties.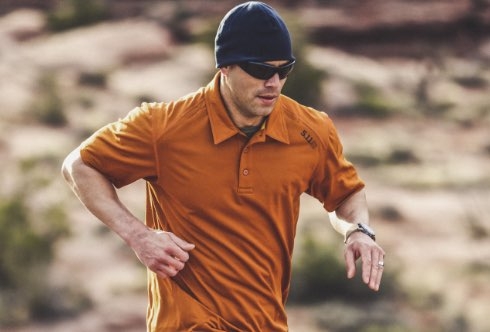 Professionals working in law enforcement, public safety and throughout the branches of the military count on 5.11 Tactical polos to provide casual uniform wear with superior functionality on the job. Specially engineered to withstand rugged environments and excel in high-stress situations, these work-ready shirts adhere to dress-code and functionality requirements for first responders across a wide range of disciplines.
5.11 Tactical uses a variety of materials to construct our comfortable tactical polos – that way, you're always ready to answer the call of duty in a range of professional environments. Our men's and women's polo shirts are available in SmartWeave fabric, Freedom Flex mechanical stretch fabric, fade and snag-resistant polyester, spandex, cotton and other durable fiber blends. Long- and short-sleeve options let you tailor your attire to suit current conditions so you're always prepared, comfortable and ready to serve.
Tactical Polo Design Features
To go above and beyond average polos, tactical polos offer special features for enhanced utility, the ultimate comfort and a professional appearance – on the job and during your days off, too. 5.11 Tactical polo shirts can include any combination of the following advanced design features:
Moisture-wicking technology to keep you cool and dry in humid or hot conditions.
Secure zip chest pockets to keep your items secure.
Full length running gussets for increased mobility.
Sunglass loop and pen pockets for secure storage and easy access.
CCW ready for covert carry compatibility.
3M® Scotchlite® reflective material for high visibility while on patrol.
Bartacking at major stress points for enhanced durability.
Melamine buttons that won't burn, crack or melt.
Stay flat collar for a pressed, professional appearance.
Integrated side vents for increased breathability.
When you shop for new tactical polos, consider your work environment and specific job duties to select shirts with the design features you need and want. As a bonus, tactical polos transition nicely from workplace to off-duty attire so you can finish your shift and head straight to the shooting range, local community event or that special evening out looking sharp.