Always Be Ready: How to Choose a Basic EDC Backpack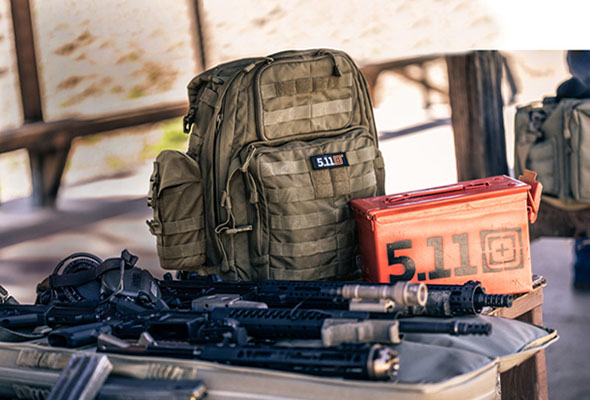 Your everyday carry backpack is more than baggage – it's your go-to when you need something while you're out, and it has to be tough enough, big enough and reliable enough to tote your must-have gear. When you choose an EDC backpack for work or everyday adventures, the most important thing you can do is plan your bag around your essential items.
5.11 Tip: Never pick a bag and hope it's a good fit for your gear. Choose your gear first. Then find a bag that can handle it.
The Right EDC Backpack for Work
Military personnel, law enforcement pros and first responders have different EDC items than civilians do, so if you fall into this category, map out your gear before you look at backpacks that fall under your uniform regulations.
The Right EDC Backpack for Everyday Adventures
Choosing an EDC backpack for everyday adventures or for civilian work also hinges on your essential gear. The most necessary items depend on where you're headed – so if you're trekking through the woods, zipping around the city on errands or going to your buddy's house, the things you want to tote need to fit inside.
What to Carry
Always keep emergency supplies with you wherever you go – even if you just know you won't need them (because that's exactly when you'll need them). At minimum, your EDC backpack should include the things you can't leave the house without, like keys, your phone and your wallet.
Your unit or department most likely has an SOP, where you'll find required EDC gear. That's your base – but you can usually add to (and never take away from) your packing list. Even if your organization doesn't have an SOP, you can plan smart by packing the following items:
EDC knife
Extra cash
Extra socks and uniform items
Fire starting kit
Flashlight
IFAK
Medication
Multi-tool
Pens and notepads
High-protein snacks
Sunglasses
USB storage
What Size Tactical Backpack Do You Need for EDC?
The interior compartment of a tactical backpack is measured in cubic inches and liters. You can get even more from your bag when it's outfitted with a MOLLE or 5.11® RUSH Tier System that allows you to add attachments. A bag ranging between 1,525 cubic inches, like the AMP12™ Backpack 25L, and 2,275 cubic inches, like the RUSH24™ Backpack 37L, is the perfect fit for most people. The LV18 29L and DART24 Pack 30L fall right between those sizes.
5.11 Tip: Most airlines allow carry-on luggage measuring up to 22 inches by 14 inches by 9 inches, so keep that in mind if you're a frequent flier.
Features to Look for in Any EDC Backpack
Here's a list of features you should look for in a basic EDC backpack:
CCW compartment
Chest straps (particularly for larger bags)
Drainage grommets
Grab-and-go handle
Laptop sleeve
Media pocket
MOLLE or RUSH Tier System compatibility
Removable accessory board
Side stretch pockets
Top-loading main compartment
Water-repellent coating
Yoke shoulder straps
Your EDC backpack should help keep you ready for anything, so Goal Number 1 is to figure out what you need to carry. Once that's done, you can choose the right backpack for your daily use.