Go Bag Checklist for National Preparedness Month
September is National Preparedness Month, and it's a good reminder that emergencies and disasters can happen at any time. You should always be prepared to pick up and go when you need to – and the best way to do that is to have a packed-and-ready go bag in your car, near the front door or in another convenient spot, like your workplace.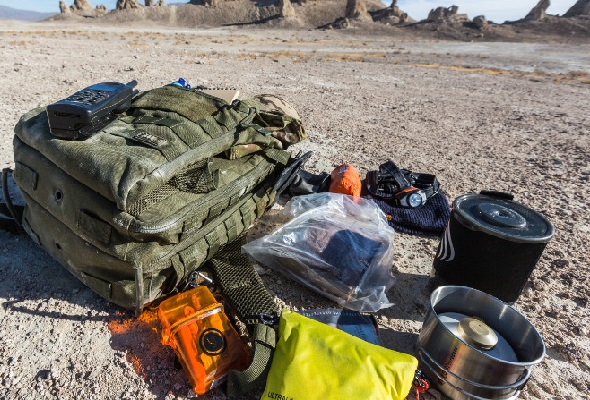 Having a go bag – a backpack stuffed with emergency essentials – can help prepare you for the unexpected, and there's no better time to put one together than National Preparedness Month. Your go bag should contain basic emergency supplies to help you and each member of your family survive until you can reach shelter or your designated rendezvous point. Here's how to build one.
How to Choose a Go Bag
Picking the right go bag, which is essentially a tactical backpack customized with the gear you need, is half the battle. If you need more gear than one bag can hold to cover everyone in your family, add a sling pack – another family member can carry it, or you can throw it over your own shoulder. Another option is to have each family member pack their own go bag to ensure everyone is prepared at all times.
Here are the basic features every go bag needs:
MOLLE system so you can connect extra packs, pouches and gear depending on each unique situation or environment
Compression straps to hold down puffy gear like poncho liners
Zippered front and main compartments, and dividers inside
A built-in hydration compartment
A cinching waist strap and sternum strap to make carrying easier
A grab-and-go handle
Simplify your search with a ready bag that's engineered for emergencies, like bags with the RUSH™ Tier System built right in.
Go Bag Checklist
Having the right go bag, sling pack or a Bailout Bag isn't enough – you also need to pack it right. Here are the basic items to put in any go bag:
Battery-operated or crank radio
Cash
Emergency blanket
Extra batteries for radios
Extra keys to your house and car
Extra socks
First-aid supplies
Flashlight
High-powered snacks
Important documents in sealed plastic bags
Knife
Lighter and matches
Medications
Multi-tool
Personal toiletry items
Spare chargers for electronics
Water purification tablets
Waterproof bags
Other items to include depend on the type of emergency you're preparing for – you may need things like a shelter-half, a water purification kit or a sleeping bag. It may not always practical to pack a go bag for every member of your family, either. If you have limited space, you may have to compromise on optional items or use a MOLLE system to affix extra pouches and packs to the outside of your bag.
Extra Survival Gear for Your Go Bag
If you have enough room, here are some optional items that can make an emergency evacuation a little less difficult:
Can opener and utensils
Canned food
Chem lights
Complete IFAK
Full shelter
Hand sanitizer
LED headlamps
MREs
Poncho
Survival blankets
Toilet paper
With the right gear in your go bag, you can ALWAYS BE READY for what comes your way. Remember to keep your batteries fresh and medications up-to-date, and reevaluate your bag's contents each season to stay prepared. For more severe disasters and emergency situations, consider keeping a bug out bag on hand, as well.