6" Boot vs. 8" Boot: Which Boot is Best for Your Job?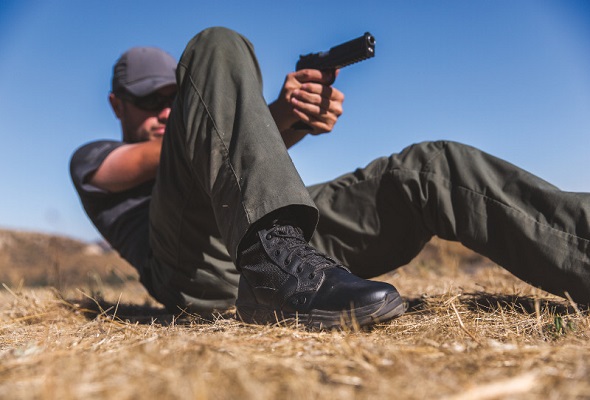 You spend all day in your work boots, and you either feel every second of it or you don't even know they're there. If it's the former, you're in the wrong boots.
Part of what makes your boot comfortable and supportive is how far it goes up your calf. That's measured in what's called the boot's upper – the distance between the part that begins just above the outsole and extends up to the collar. Boot height has a lot to do with air flow and ankle support, and each creates a different aesthetic if you're blousing your trousers. It might be up to your employer whether you need 6-inch or 8-inch boots, so before you make a decision, check your uniform regs.
6-Inch Boots
A 6-inch boot can offer you plenty of ankle support for walking over uneven terrain, long-distance hiking and running. You might find it easier to run in 6-inch boots than in 8-inch boots, but that depends on how heavy they are and how tightly you lace them. Generally, 6-inch boots are more flexible than 8-inch boots.
These boots are ideal for farm work, construction and industrial work, where you need the right mix of flexibility and support. A lot of EMTs, EMS pros and first responders choose 6-inch boots for their flexibility – moving up and down stairs for rescues is a lot easier in shorter boots. Police use them for foot patrols and as part of the regular duty uniform, but every force has its own SOP. Some, like the military, require at least 8-inch boots.
What to Look for in 6-Inch Boots
Boots like the men's A.T.A.C.® 6" Boot and women's A.T.A.C.® 6" Boot have a long list of great features. Here's a quick run-down of what you should look for in a 6-inch boot:
Injection-molded midsoles for support.
Leather or nylon uppers.
Metallic or non-metallic shanks, depending on your job requirements.
Oil-resistant outsoles.
Open cell foam cushioning.
Polishable toes, if your uniform regulations require it.
Rigid or semi-rigid heel and toe reinforcement.
Slip-resistant outsoles.
8-Inch Boots
Some people need the extra support and protection that only an 8-inch boot can provide. Certain police forces and security positions require them, and each branch of the military does, too. Boots this tall provide more coverage for hiking and other recreational activities, too. So, if you're going to be in the wild with your legs exposed, 8-inch boots are probably the way to go. They provide better support than shorter boots, so if you have a habit of rolling your ankles or your job requires a little extra bracing, this is the height to choose.
Because 8-inch boots are taller, they're more restrictive – and that includes how much air they let in, too. If you're opting for tall boots, choose a pair with great ventilation, like A.T.A.C.® 8" Storm Boots.
These boots are ideal for military and police operations, as well as some first-responder gigs. Long ruck marches in inclement weather, walking through brush and working outdoors, and paramilitary ops require the rock-solid support provided by an 8-inch boot.
What to Look for in 8-Inch Boots
The right 8-inch tactical boots need to be packed with features to keep you comfortable. Here's a list of the features you should look for when you're shopping for an 8-inch boot:
A 5.11® Shock Mitigation System®.
Breathable materials or vent holes near the arches of your feet.
Cushioned insoles.
Metallic or non-metallic shanks, depending on your job requirements.
Moisture-wicking liners.
Oil- and slip-resistant outsoles.
Phylon midsoles for extra support.
Semi-rigid heel and toe reinforcement.
Side zippers, if your SOP allows them.
Waterproof construction.
When choosing between 6-inch and 8-inch boots, assuming you don't have an SOP or regulations that require a specific height, comfort is the main factor to consider. You're going to wear your boots all day – sometimes for back-to-back shifts – so 6-inch boots may give you the flexibility you need while 8-inch boots give you plenty of ankle support.