How to Choose Between Soft Toe vs. Composite Toe Tactical Boots
Getting the job done – whether you're working in a freezing environment, navigating your way around heavy machinery or constantly on the go from Point A to Point B – hinges on your ability to protect your feet and stay comfortable. The problem is, there are so many types of tactical footwear available that it can be tough to make the right investment.
This guide explains how to choose between soft toe and composite toe tactical boots so you can stay comfortable and safe during your daily grind.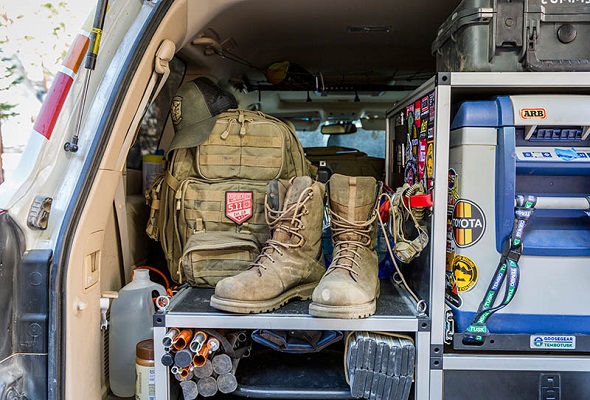 How to Pick the Right Boots
Ask yourself these questions to figure out whether you need soft toe boots or composite toe boots:
Are you at risk for puncture injuries? If you are, soft toe boots simply aren't an option. Look for composite boots instead.
Are you working with heavy equipment? Heavy equipment means you need the heavy-duty protection that composite toes provide.
Do you need to be light on your feet? Soft toe boots are usually lighter than composite toe boots, but you can also find exceptionally flexible, lightweight composite toe boots.
Do you walk through metal detectors frequently? Depending on your answers to the other questions listed here, this one might make composite toe boots v. steel toe boots a necessity.
Do you work in freezing temperatures? Composite toe boots tend to provide more insulation than soft toe boots do.
Your answers to each of these questions will help determine the type of toe you need in your tactical boots.
Boot Hack: Remember that steel toe boots can provide even more protection than composite toe boots do – but they're heavier and may prevent you from moving quickly.
Soft Toe Boots
Soft toe boots provide your feet with some protection – but they're not going to prevent impact or crushing injuries. However, you can find soft toe tactical boots that help keep you safe from chemicals, microbes and bloodborne pathogens, as well as slip-and-fall hazards in wet environments or on slick floors.
What to Look for in Soft Toe Boots
Here's a list of must-have features to look for in soft toe boots. They'll keep you ready for anything while providing your feet with basic protection.
Leather uppers for stability
Nylon uppers for flexibility
OrthoLite® insoles
Rubber outsoles
Slip- and oil-resistant soles
Waterproof construction
Waterproof lining that protects against bloodborne pathogens or chemicals
Composite Toe Boots
Composite toe tactical boots don't contain any metal – that's one of the features that distinguishes them from steel-toe boots. Instead, they're made from heavy-duty plastics, carbon fiber or rubber. They provide protection against some impact, crushing and puncture accidents, too, which means they're ideal for working in rugged but moderate-risk environments.
What to Look for in Composite Toe Boots
Here's what you should look for in composite toe boots when you need a decent level of protection against harsh environments and rough working conditions:
Climbing lugs
Injection-molded insoles
Leather construction
Moisture-wicking lining
Nylon shanks
Oil- and slip-resistant outsoles
OrthoLite insoles
Padded neoprene collars
Puncture-resistant frames
Side zippers
Vented waterproof membranes
Pros and Cons of Soft Toe and Composite Toe Tactical Boots
Style

Pros

Cons

Soft Toe Boots

Lightweight

Flexible

Some provide chemical and bloodborne pathogen resistance

Very little toe protection from impact, crushing or punctures

Composite Toe Boots

Lighter than steel toe boots

Good for extreme temperatures

Good electrical resistance

Don't set off metal detectors

Can't withstand as much impact as steel toe boots can

Only moderate puncture protection
Knowing how to pick between soft toe boots and composite toe boots is the biggest part of the battle. After that, it's all about choosing a style that works with your uniform or specific mission.