How to Choose Tactical Boots
Your lifestyle and your mission determine which tactical boots are going to be the best fit for you – and there are several features to consider. With the right boots, you'll be able to tackle every mission head-on. The best tactical boots have these features in common:
Breathability
Good traction
Flexible soles and uppers
Durability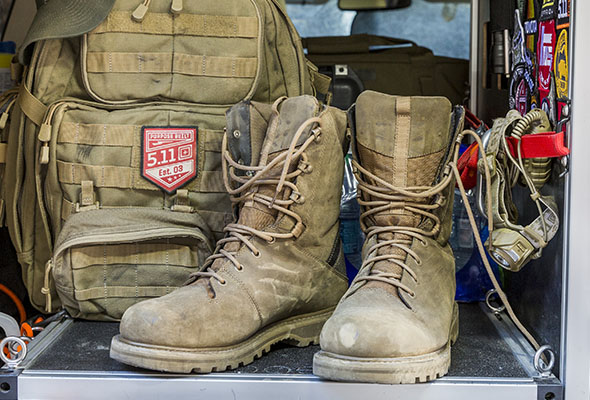 Choosing Tactical Boots Based on Mission
Police officers, military personnel and firefighters or EMTs all need versatile, sturdy boots, but there are other nuances to watch for.
Law Enforcement
For the most part, LEOs need tactical boots that meet uniform regulations (read: black). Full-grain leather and mesh are lightweight and still look professional. Traction is important, too, so look for a tactical boot with well-cut treads.
Military Personnel
Like law enforcement pros, military personnel must meet uniform regulations that vary by branch. Most everyday combat boots are required to be suede and mesh, and they must be a particular color. Comfort is essential for long rucks,while lugging gear across rugged terrain and even during everyday admin work in the rear. Get boots with solid arch support so you can stay comfortable on any mission.
Firefighters and EMTs
Uniform regulations usually dictate the tactical boots firefighters and EMTs can wear, as do ASTM standards. Most firefighters need station boots that can provide protection from fluids and crushing hazards, so find a tactical boot with built-in waterproofing and a steel toe that fits within uniform regs.
Why Tactical Boots are Necessary
Your workplace doesn't have to require tactical boots for you to want them – these sturdy, high-performing boots are perfect for many professions and recreational uses. You might need tactical boots in these and other heavy-duty situations:
When carrying loads that are heavy for your body type
When hiking over rough terrain
When ankle support is a concern
When you're a beginner in a physically demanding environment – remember, tactical boots are a lot different from tactical shoes.
When you could encounter snakes or other ground-level hazards
Comfort Features of Tactical Boots
Finding the right tactical boot is about more than the way they look – it's also about the way they leave your feet feeling after a long, grueling day. If your footwear is too tight, you'll get blisters, experience too much stress on joints and tendons, and be at risk for plantar fasciitis. If your boots are too loose, you'll experience the same. Regardless of the boots you choose, make sure they fit properly and that you take the time to properly break them in.
Special Features to Look for in Any Tactical Boot
There's no one-size-fits-all list of features that everyone will find necessary – or even useful – in a tactical boot. However, these distinctive features can make one type of boot pull ahead of the pack for you:
Cushioned midsoles that provide extra support
Kevlar® uppers and Kevlar-reinforced heels
Ortholite® footbeds
Slip- and oil-resistant outsoles
Non-metallic shanks
Moisture-wicking lining
Zippered closures on the sides
Sausage laces
5.11® Shock Mitigation System®
Steep heel-to-toe-drop
Waterproof membranes
Approach your search for tactical boots from three angles – what your mission requires, what you feel comfortable wearing, and what features are going to bring you the most benefits – and you'll find the right fit for the mission ahead.