Best Socks for Workouts, Tactical Ops and Everyday Wear
Your feet take a beating every day that starts with your zero-dark-thirty workout and doesn't end until you finally kick back on the couch when everyone else is asleep. That means you need high-quality socks – but not all socks are tough enough to keep your feet cool, dry and comfortable on every job. This guide explains how to choose the best socks for workouts, tactical ops and everyday wear.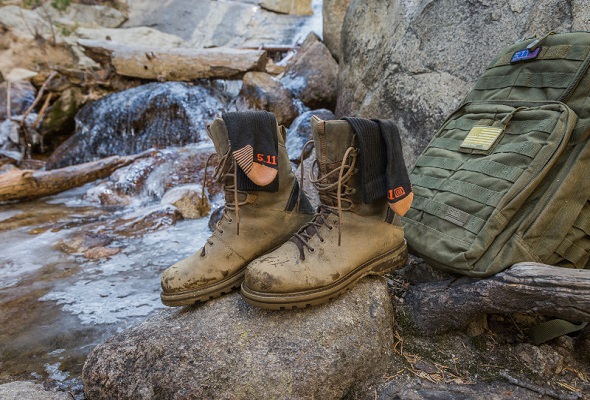 Workout Socks
Athletic socks, which can cushion your feet on impact and keep you dry during PT, is a pretty broad category. At the bottom of the athletic sock hierarchy are standard white tube socks – they're what most people use for running and cross-training, but they leave room for improvement.
What to Look for in Athletic Socks
Above all, high-performance athletic socks should be made from moisture-wicking materials that keep your feet as dry as possible during cardio, strength training and other strenuous activities. Here's a complete list of features to look for in athletic socks:
Breathability
Compression zones to brace your feet
Enhanced heel padding
Moisture-wicking material
Multi-polymer fabric construction
Odor control
Tapered design that holds them up while you move
Tactical Socks
Tactical socks need to keep you going strong. 5.11 offers two types of socks designed to keep up with you on any mission: 5.11 6" Socks and Cold Weather Crew Socks.
5.11 6" Socks
Featuring multiple compression zones and the 5.11 Shock Mitigation System®, these 6" socks are moisture-wicking and breathable. Designed to keep your feet dry at the office or on the beat, they're made from multi-polymer fabric with enhanced heel padding that keeps you comfortable when you have to stand, walk or run for more than a few minutes.
Cold Weather Crew Socks
Ideal for keeping you warm in frigid temperatures, our Cold Weather Crew Socks are made from premium Merino wool to enhance your performance. Crafted for comfort and support, these crews have built-in ankle and arch support, as well as terry loop construction at the calf and ankle. Cold Weather Crew Socks feature heel, sole and toe reinforcements to help them last as long as you do in the field and on the job.
Everyday Socks
Comfort and breathability are essential in everyday wear socks, but they also need to be flexible enough to wear at the office, on a tactical mission or with casual clothes. Year Round Crew Socks fit the bill – they're designed to protect your feet no matter what you're doing.
Year-round Crew Socks
Reinforced, breathable and sturdy, Year Round Crew Socks are perfect for casual wear, office wear or tactical wear. They're made from TransDRY® cotton and feature copper threading for added durability. These over-the-calf socks offer plenty of arch and calf support, and they're reinforced at the heel, sole and toe. With enhanced sole padding and NanoGLIDE® blister-prevention technology, these moisture-wicking socks are perfect for everyday wear.
Choosing the right socks can make or break your mission, and it really comes down to fit, breathability and comfort. Socks with compression zones, padding in the right places and moisture-wicking technology each have a place in your sock drawer so you can ALWAYS BE READY.