Gym Bag Essentials for an Indoor Workout
Circuit training. Weightlifting. When you're breaking a sweat indoors, the last thing you need is to forget something essential. If you've ever made it through a grueling workout and realized there's no towel in your gym bag halfway through your cool-down shower, you know what we mean.
Use this checklist of gym bag essentials to always be ready for the demands of intense indoor workout sessions.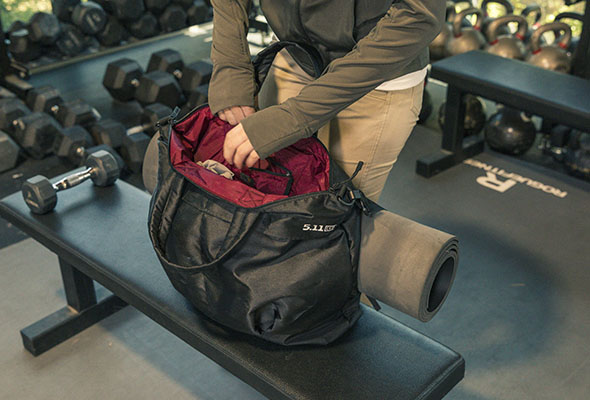 How to Pack a Gym Bag
Pack light. Pack efficiently. Here's what to put in your gym bag before you work out:
Bandages. A small box of adhesive bandages can cover blisters, cuts and scrapes that could interfere with your workout.
Extra headbands or hair ties. This doesn't apply to everyone, but if it does, you know how important it is to keep your hair out of your face while working out.
Headphones. Everyone's walked into the gym without headphones a time or two, but if you keep spares in your gym bag, you'll never have to listen to the sounds of other people working out.
Facial wipes. Here's a pro tip: Wipe down your face beforeyou work out to remove makeup or daily grime and help prevent breakouts. After sweating it out, use another one to keep things fresh.
Hand sanitizer. Even in a gym with disinfectant wipes by every machine, having your own sanitizer can help keep germs away in the event of low supplies or negligent members.
Laundry bag. Choose mesh or an antimicrobial, washable zippered bag to stash your sweaty gear in for the ride home.
Odor balls. Make two or three odor balls permanent fixtures in your gym bag. You know why.
Reusable water bottle. Skip the plastic bottles and invest in a good reusable water canister. It'll save you money over time, and reuse helps out the environment, too. Fill an insulated reusable water bottle to the brim with ice for refreshing hydration no matter how long you grind.
Shower shoes. The cleanest gym shower in the planet can still harbor bacteria and fungus, so protect your feet with shower shoes or athletic slides. Leave them on for the ride home to give your tired feet some space to breathe.
Small hand towel. Stash a small hand towel in your bag to wipe sweat off your face and hands between machines. Bonus points for microfiber cloths, which are super absorbent and dry quickly.
Snacks. Keep a few healthy single servings of foods like nuts, apple slices and protein bars in your bag to maintain your energy.
Toiletries. Seal all your shower products in a plastic bag. Don't forget shampoo and conditioner, body wash, a scrubber or washcloth, a towel and deodorant.
Moisturizer and other skincare products. Sweat does a real number on your skin, so bring your tried-and-true lotion for post-shower application. If you use toner, tea tree oil or anything else, stick it all in that zippered plastic bag.
Workout clothes, including socks and shoes. If the urge to exercise strikes after work, school or some other event, save yourself the trip home by keeping a clean set of workout clothes right in your bag.
What to Look for in a Gym Bag
You can't pack efficiently if you don't have the right bag. The best gym bags include these features:
A water bottle pocket
Comfortable and adjustable straps
Internal compression straps
Nylon construction for durability
Removable toiletry kits
Roomy main storage
Water resistance
Zippered side pockets
To upgrade your gym bag, check out 5.11's® Rapid Origin Pack 25L, the Rush LBD Mike or the RUSH24™ Backpack, or explore our entire collection of tactical bags and packs.