Guide to Finding the Perfect Tactical Bag for Your Lifestyle
Your lifestyle dictates what type of tactical bag you need. An active-duty service member needs a different bag than a competition shooter needs, and you can use this guide to help you pick the perfect bag for your lifestyle.
Every tactical bag has its own set of features and benefits. Take these three things into account when shopping:
Capacity
Fabric and appearance
Special features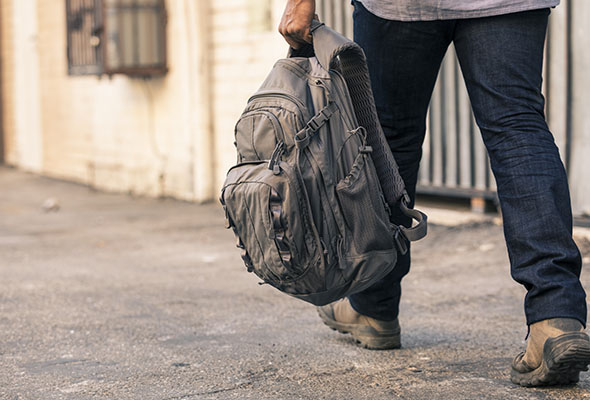 Finding a Tactical Bag with the Right Capacity
A low-capacity bag will be lighter, but it's not going to hold as much as a larger bag will. If your tactical bag is pulling double-duty on light-carry and heavy-carry missions, think about getting a MOLLE-compatible backpack that allows you to put some gear on the outside using pouches and attachable packs. Otherwise, consider these three options:
Tactical duffle bags. A tactical duffle bag provides enough room to haul your essential gear to the range, the gym or the field.
Range bags. Depending on the style you choose, you can pack your range bag with as little – or as much – gear as you need for single-day or multiple-day missions.
Tactical luggage. Ideal for long trips to the field, high-capacity tactical luggage can be MOLLE-compatible and feature several interior and exterior compartments.
Choosing the Right Fabric and Appearance
Fabric makes a huge difference in what you can accomplish with your tactical shoulder bag or backpack. Look for bags made with waterproof or ripstop fabric. Polyester and nylon can absorb water, so if you choose one made from those fabrics, make sure it has a waterproof liner. You should also consider these factors:
Staying in compliance with military regulations. Your tactical duffle bag, luggage or range bag may need to meet your branch's requirements.
Staying concealed in the woods, desert or an urban environment. If finding cover is tough, concealment is essential.
Keeping your gear safe inside. If you have sensitive items, electronics or guns, you may need a hard case rather than a tactical bag.
Special Tactical Bag Features
A good tactical bag is loaded with the features you need to accomplish your mission:
Sturdy zippers that won't break apart under pressure.
Hook and pile fasteners on internal compartments.
Removable dividers that let you keep your gear organized.
MOLLE compatibility for extra pouches and packs.
Built-in hydration systems or MOLLE straps that let you attach a hydration kit.
External pockets that expand to give you more room for gear.
Choosing the Right Bag
When you choose a tactical bag, your main purpose for using it should drive your decision. Here's what you need to consider:
Wide straps help distribute weight better – and bags are easier to carry when the straps are padded. You may also want to find a heavy-duty bag with a chest strap to help stabilize the load, or hip straps to more evenly distribute weight.
Internal frames can keep weight aligned with your center of gravity and enable you to keep your balance more easily.
External frames can help you carry more gear and usually allow for multiple compartments inside the bag.
Top-loading bags help you distribute weight in your pack, but finding things inside can be challenging.
Front-loading backpacks with an end-to-end opening can make it easier to find the gear you need inside, but they can be more awkward to carry over long distances.
Finding the right tactical bag isn't rocket science, but it's essential if you want to carry your gear comfortably on a hunting trip, a field exercise, or to and from the range. Knowing what to look for based on your needs can make it a lot easier to make the right choice.