Beginner's Guide to Making Your Own Tactical Kit
Your tactical kit (often called a Bug-Out Bag or Go Bag, for short) should include everything you need to survive during and after an emergency. The question really isn't what you need in your kit, though. It's, "How prepared do you want to be?"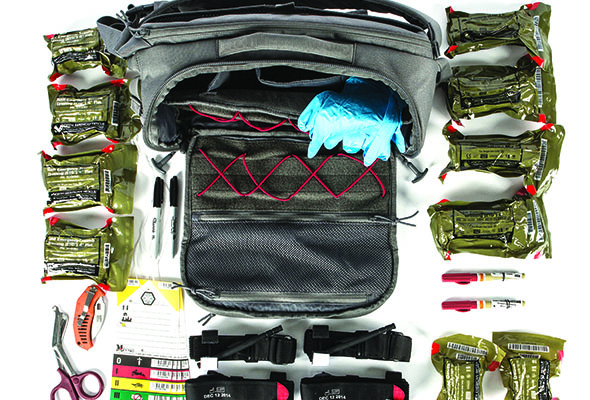 Building a Tactical Kit from Scratch
Putting together a tactical kit is about survival, not comfort. Start with the basics:
Compass
Fire starter
Folding knife
LED light
Paracord
Personal protection
Water purification tabs
These basic tactical accessories don't take up a lot of room in a Go Bag, but they're the bare minimum you need. They can get you through Day Zero of an emergency, but you'll need to branch out if you're looking at longer-term survival and preparedness.
Improving Your Tactical Kit
A small or mid-sized Go Bag that you'd stash in your car or store with your emergency supplies should include doubles of all your basic essentials. (You started with one fire starter – now add another. You get the picture.)
A better-than-basic tactical kit that can sustain you during the days beyond an emergency should also include:
A full water purification kit
A shelter-half or bivy with paracord
Cash, in small bills
Collapsible water container or hydration kit
Energy bars
First-aid kit or IFAK with Israeli bandages and a tourniquet
Fixed knife with a full tang
Multi-tool
If you're preparing for a specific emergency, you'll likely have more to add. Some of your gear might be environmentally dependent, too, like a cooling bandana or a balaclava.
Building Your Own Full-Scale Survival Kit
Building a fully comprehensive Bug-Out Bag requires more gear, and it'll be heavier to carry – both important considerations. But a full-scale tactical kit will take you farther and help you survive longer than a smaller kit will.
A full-scale survival bag also includes "mission-dependent" items. If you're prepping for more than one scenario, you might prefer packing a handful of smaller bags that can fit inside of your Go Bag. You could also attach mission-specific MOLLE accessories to the outside of your pack for modular flexibility in a range of situations.
In addition to mission-specific or environmental equipment and all the supplies above, your full-scale Go Bag needs:
Additional clothing (especially socks) – swap the clothes out of your bag seasonally
An emergency radio with a hand crank
Batteries
Can opener (ideally, your multi-tool has one)
Candles
Chem lights
LED headlamps for everyone in your party
Eating utensils
Metal cooking pot
Ready-to-Eat Meals, or MREs
Protein and energy bars for 3 days
Water for 3 days
Poncho or rain gear
Shelter
Sleeping bag with bivy cover
Ground pad
Survival blanket
Personal hygiene items
Toilet paper and wag bags
Working gloves
This beginner's guide to making your own tactical kit can help get you started. But remember – always evaluate and reevaluate your gear list based on the specific season and emergency you're preparing for.