Tactical EMS/EMT Pouches to Have on the Job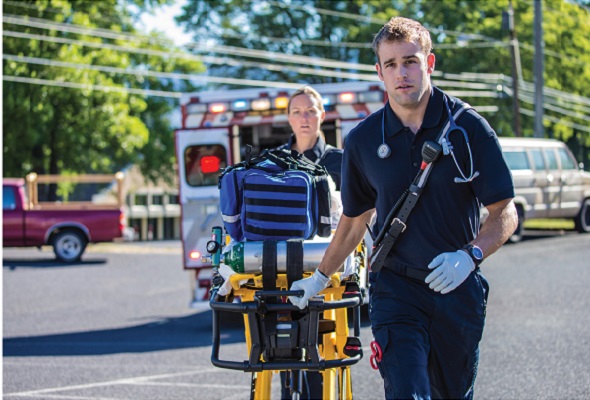 As a first responder who's there to save lives – and sometimes work miracles – it's essential that you have the right gear with you on the job. The only way to keep all your necessities on-hand and easy to access is by using tactical pouches or medical bags designed just for you.
This guide describes med pouches, IFAKs and other bags you can use every day.
Specific Pouches for the Toughest Jobs
There are plenty of EDC items every EMT or EMS professional should never leave home without, but there are some pouches designed to carry the "extras." Check out this list of first-responder pouches that could help you save the day.
A disposable glove pouch lets you keep fresh gloves within reach at all times. It features a zipping main compartment for easy refills, and it's web, MOLLE and 5.11 SlickStick® compatible. This glove pouch is also water-resistant, and it's small enough to attach to your belt – measuring 4.5 inches high, 3 inches long and 1.75 inches deep.
The Med Pouch Gear Set is designed for use with the Gear Set™ system, so you can attach it to any compatible bag or pack. Made from water-resistant 1050D nylon and featuring a fold-out top flap, zippered pockets, clear vinyl two-way access pockets and a fold-out configuration with three tiers, this gear set is easy to keep organized so you can access everything you need during an emergency.
A UCR IFAK Pouch keeps the bare essentials within arm's reach. This simple-but-effective pouch features a drop-down, zippered compartment so you can ID your equipment on the fly and access it quickly and easily.
Checklist of Essential Gear for EMS/EMT Pouches
All the pouches listed here are great for carrying basic and advanced gear. Here's a list of essentials that most first responders need on the job:
Cleaning cloths or wipes
Extra pens
Gauze
Hand sanitizer
Mask
Medical tape
Nitrile gloves
Note pads
Pen light
SAM splint
Stethoscope
Tourniquet
Trauma shears
Water gel
Zip ties
Carrying extra pouches to supplement what's in your medic bag can mean the difference between life and death. Ideally, you'll find a pouch that attaches to your existing gear – like your belt, your backpack or clothing – so you can stay light and agile without sacrificing access to your equipment.