Be Prepared: How to Pack a Range Bag
You can't find success at the range without the right gear – but as long as you have a solid range bag filled with the basics and a few bonus items that matter to you, you'll be ready for anything the day throws at you.
We asked the tactical operators at 5.11 which essentials they always keep in their range bags. Use the checklist and packing hacks below to stay prepared in any situation.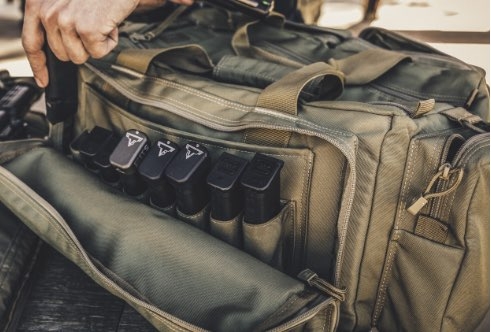 What to Pack in a Range Bag: The Ultimate Checklist
First thing's first. Before you start packing, make sure you have all the gear and equipment you need to include. Here are the essentials, broken down by category:
Protection
Trauma kit
Eye and ear protection
Sun and bug protection
Gloves
Personal emergency information on a laminated notecard
Tools
Binoculars
Multi-tool
Screwdriver sets (one designed for your gun and one designed for scope rings and mounts)
Miniature cleaning kit
Flashlight
Stapler and staples to affix targets
Duct tape
Masking tape to patch targets or affix them to posts
Timer for timed drills
Electronic calipers or a small ruler for measuring shot groups
Gun Accessories and Ammo
Dummy rounds and ammunition
Chamber flags or empty chamber indicators
Targets
Gun oil
Gun mat or towel
Other Essentials
Water
High-protein snacks
Extra batteries for electronic ear pro or timers
Sharpie or pen for marking shot groups
Shooting journal, if you're keeping one to track your progress
Empty freezer bag for brass
Empty trash bag to stash your range bag in if the area becomes muddy
Range Bag Packing Tips from the Pros
We've all been there. You get to the range, sign in, and you're ready to shoot – and then you realize you forgot something crucial. Use these tips to keep track of and stock your mission-ready Range Ready™ Bag (or another bag you like).
: Range Bag Hack #1: Label Your Bag (and Your Gear)
Fill out a luggage tag and put it on a little-used zipper on your range bag – a luggage tag will stay put better than a hook-and-pile nametape and it'll outlast a permanent marker, especially if you're operating in wet or muddy conditions.
Label all your gear with a permanent marker (a metallic one works best for dark items) and keep a copy of your range checklist in your bag to double-check that you have everything before leaving for the day. With a reference checklist, you'll only have to replace items you've used, rather than dump the whole bag and repack it each time.
Range Bag Hack #2: Use Plastic Bags for Everything
Loose items belong in a clear, plastic bag, and so do papers, your ID cards and everything else you wouldn't want to get wet, sandy, grimy or lost.
Stash a large plastic trash bag in one of your range bag's pockets. If you're caught in a sudden downpour, you can toss the whole bag inside to keep it – and your gear – clean and dry.
Range Bag Hack #3: Prepare for Anything
If you're packing up for a shooting competition, a qualification course for law enforcement or the military, or another special event, you'll need mission-specific items in your range bag. Here are a few miscellaneous items you may want to include:
Blank firing adapters
Holsters
Skills and drills books
Timers
Range finders
Looking for a little extra luxury? Consider adding these helpful items to your range bag, too:
Lip balm
Wet-weather gear
An extra hat
Hand sanitizer
Personal hygiene items
Camera
Folding chair
Keep in mind that your range bag should be set up to serve your needs, whether you're training indoors, outdoors or gearing up for a shooting competition. Use this checklist as a foundation for building out your unique range bag, and adjust it to fit your environment.