Tactical Winter Gear Guide
The right tactical outerwear, underwear and accessories can mean the difference between life and death when temperatures drop below freezing. That means you need an array of tactical winter gear, including base layers, pants, outerwear and extras, so you're ready for whatever mother nature throws your way.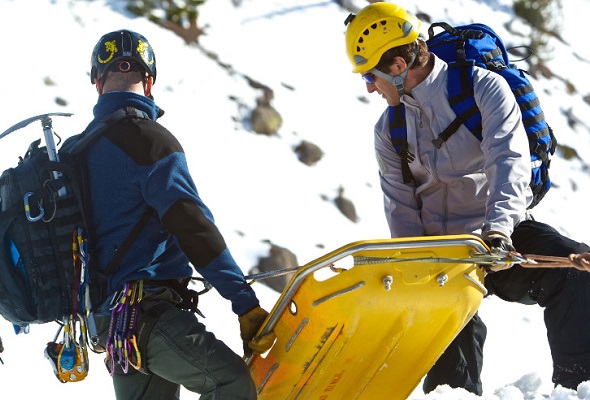 Tactical Winter Gear 101?
Your winter gear needs to protect you from the cold, rain, snow and other conditions. If it doesn't, you're at risk for cold-weather injury. You need sufficient clothing to get you through, and you need to layer it properly so you can stay dry the whole time you're exposed to the elements.
Here's a checklist of the bare minimum you need to survive in the cold:
Base layer
Thermal layer
Winter pants
A jacket, coat or vest
Cold-weather socks
Gloves
A hat or beanie
A balaclava
Base Layer
It's not always easy to predict what kind of weather conditions you'll be facing. You need to layer your clothing so you don't overheat, sweat and then freeze – and the way to do that is by carefully choosing the right base layer.
Your base layer is the layer of clothing that touches your skin. Its main purpose is to keep moisture away from your body, so you need something made from moisture-wicking fabric. Synthetics are typically best at pulling moisture away from your body, and next to those, merino wool base layers are best.
Whether you choose a short-sleeved base layer or a long-sleeved one, the most important things to worry about are its moisture-wicking properties and how soft it is. If it's rough, or if the seams are jagged or poorly sewn, you'll have to deal with chafing and irritation.
Always wear a base layer if you'll be exposed to temperatures lower than 30 degrees F or when you'll be doing any intense activity that'll make you sweat. Otherwise, you can use your discretion – but it's always better to wear a base layer than to be caught without one. If you decide to go without a base layer, make sure your thermal layer is made from a synthetic or wool fabric to help keep you dry.
Here are the features to look for in a base layer:
Moisture-wicking capabilities
Odor resistance
Quick-dry technology
Soft fabric
Soft seams
Thermal Layer
Your thermal layer – also called a mid layer – is the one that keeps you warm, and it's made up of one or more secondary moisture-wicking garments that pick up the slack if your base layer drops the ball. The thermal layer's main purpose is to trap heat close to your body and hold it there, so even if external temperatures suddenly drop, you still have that protection. Your mid layer can include more than one garment. It's usually a good idea to wear at least two pieces as a thermal layer. That way, you can take off what you don't need and put it on when you slow down or temperatures drop.
Here's what to look for in thermal layers:
Abrasion-resistant reinforcements at elbows and knees
Handwarmer pockets
Moisture-wicking capabilities
Odor resistance
Pad pockets, if necessary
Quick-dry technology
Stain-resistant finish
Stretchy fabric
Underarm gussets
Winter Pants
In most cold-weather operations, your legs are doing most of the work. You need reliable, durable winter pants that won't hold you back. While polypropylene – a synthetic – and merino wool make great base layers, they're not what you need as a thermal layer or outer layer. You can wear jeans if you're not worried about getting wet, but if wind and water are a possibility, you'll need winter pants made from windproof, waterproof materials.
Pro tip: Choose winter pants that feature zippered vents, even if the zippers are only located at the ankles. Zippered vents allow for better temperature control and relief when you work up a sweat or change environments.
Jackets and Coats for TacOps
When it comes to men's and women's tactical outerwear, the temperature and what you're doing will dictate what you need. Tactical jackets are a lot lighter than coats and can provide great protection against snow, water and wind, but they provide less protection from the cold. Vests are the midpoint – they'll keep your trunk warm, but they're not going to do anything for your arms. That's good if you're working outdoors, but bad if you're hunkered down and waiting out a storm. For most winter activities, vests are out of the question. Coats provide the most protection from the elements, but they can be heavy and inhibit your movement.
Here's what to look for in a lightweight winter jacket:
Adjustable hem
Articulated sleeves
Sealed seams
Stowable hood
Waterproof or water-resistant fabric
If you're wearing a coat or parka, these are the features you'll need:
Adjustable cuff closures
Bartacking at stress points
Elasticized cuffs
Nylon outer shell
Removable softshell liners
Roomy pockets
Water resistance
Weather-resistant zippers
Check out our guide to The Best Tactical Jackets for Every Season to learn more about choosing the best outerwear for your needs.
Necessary Cold-Weather Accessories
Any cold-weather adventure requires accessories. Don't overlook socks, gloves, hats and beanies, and other gear when you're conducting tactical operations, hunting or camping in frigid temperatures. Here's a list of winter accessories you need and what to look for:
Socks. Because your feet will be exposed to snow and wet conditions, it's usually best to wear two pair of socks. The socks closest to your skin should be made from moisture-wicking fabric, while the second layer needs to trap heat. Always pack extra socks, even when you think you'll only be out for a few hours.
Gloves. Good tactical gloves keep your hands warm without sacrificing dexterity. Look for gloves with stretchy back panels, elasticized wrists and padded or hardened knuckles.
Hats and beanies. Your body loses a lot of heat through your head, which means a hat or beanie is essential when you're out in the cold. Look for a moisture-wicking, knit fabric to hold it in.
Balaclava. You can protect your face and your head at the same time with a balaclava. A good balaclava is lightweight but durable.
Tactical Considerations When You're Dressing for Winter Weather
When you're dressing for cold-weather operations or recreation, remember the following tips:
Layer your clothing so you can protect yourself from all angles. Layering also allows you to take off what you don't need and add it back when you do.
Remember that normal undergarments, like boxers and bras, are like miniature base layers. Choose moisture-wicking fabrics so that if you sweat, they don't stick to your skin.
Wear moisture-wicking mid layers in case your base layer becomes too saturated.
You'll be able to regulate your own body temperature best if you have sufficient gear, which includes the right base layers and accessories. Layering with the right fabrics is the key to surviving wintry weather and getting the job done.