Tactical Essentials to Take Camping
Tactical Essentials to Take Camping
You're in a hurry to put the city in your rearview and get into the great outdoors – but forgetting just a few camping essentials can derail the whole trip. Use our list of what to bring camping to help you enjoy your best trip yet.
Survival of the Fittest: Tactical Camping Gear
You have the basics down – the tent, sleeping bags and recreational items you always use when you camp – but the little stuff is just as important. You need a tactical backpack loaded with gear that'll help you set up camp, cook and enjoy your trip.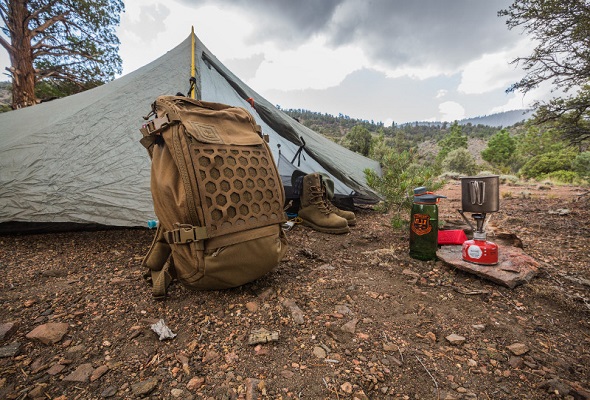 The Basics
It's easy to forget basics – you wouldn't be the first person to trek 5 miles into the middle of nowhere and realize you left the sleeping bags in the garage – so use this checklist of camping basics when you're gearing up to go:
Food and water
Mess kit that includes cookware and utensils
Sleeping bags
Tent, shelter or waterproof bivouac (bivy) sack
Thick socks
Extra clothes
Toiletries
Tools and Equipment
Tactical tools that get you through the trip are essential, and so are emergency items that you'll be glad you brought if things go south. Here's a list of tactical tools you can't afford to forget when you're camping:
Map
Compass
Fire-starting kit
Waterproof matches
Hand-crank radio
Survival knife
Binoculars
Paracord
Pepper spray
Shovel or E-tool
Emergency Supplies
Stash emergency supplies in an extra pack – or in the bottom of your ruck or backpack if you're hiking out and back – so you're prepared if something goes wrong. Here's a list of emergency supplies to bring camping:
Medic bag or IFAK
Extra food and blankets
Fishing and hunting equipment
Mini water filter
WAG bags or waste kits
Comfort Items and Snivel Gear
You can't predict the weather, so it's always better to be prepared for a downpour, a sudden dip in temperature or a little more heat than you expected. Here's a list of comfort items and snivel gear you might want to toss in with your tactical camping essentials:
Airtight containers for food
Headlamp
Bug repellent
Sunscreen
Extra boots
Camp sandals
Hand warmers
Cap or beanie
Long Johns, silks or other cold-weather gear
Poncho or other wet-weather gear
Cooling bandana
Hammock
Camping chairs
Solar chargers
Stove
If you're hiking out and back, it's hard to strike the right balance of essentials, emergency gear and comfort items – but it's easier with a high-capacity pack that's designed for camping. Pack what you know you'll need for the duration of your trip, plus an additional two-day supply of food and clean socks in case something unexpected pops up. Use these lists as a springboard to customize your pack and you'll have your best trip yet.