Tactical Belt Guide for EDC
Tactical Belt Guide for EDC
When you're carrying a firearm, concealed or otherwise, you need the right tactical belt. Your belt needs to provide the right tension for your holster, and it needs to hold your gun securely in the right place so when you reach for it, it's where you expect it to be. Every concealed carry belt is designed a little bit differently, which means your lifestyle, carrying style and reason for carrying should all be factors in your choice.
That said, these are three features to look for in any good tactical belt:
Rigidity
Buckle strength
Good fit with your belt loops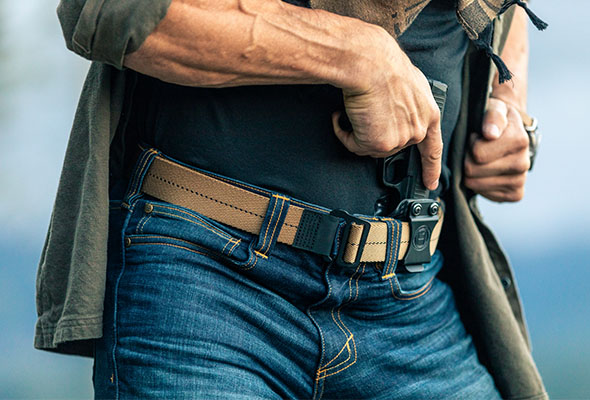 Concealed Carry and Open Carry EDC Belts
A concealed carry belt or open carry belt needs to be stiff enough that it doesn't sag when you attach a holster. A regular dress belt or work belt isn't going to cut it – you need a belt that's designed not to fold, twist or shift on you.
A multipurpose EDC belt, like the 1.5" Trainer Belt or the 1.75" Operator Belt, can help you perform under pressure. Here's what to look for in an EDC concealed carry or open carry belt:
Heavy-duty tensile strength
Reinforced stitching
Nylon mesh construction
Durable hardware
Military and Law Enforcement Belts
Military and law enforcement belts need to be mission-ready. Like concealed carry and open carry belts, they need to be stiff and sturdy, but in many cases, they need to be even tougher to hold additional gear.
Quality duty belts like the 1.75" Double Duty TDU® Belt are made with multiple rows of reinforced stitching for added stability. Purpose-built duty belts like the Sierra Bravo Duty Belt Kit are MOLLE or 5.11 SlickStick® compatible for ultimate versatility on any mission.
EMS and First Responder Belts
Strong enough for all your accessories, adaptable belts like the 1.75" Operator Belt can convert to a tie down, a carry strap or an emergency harness for added support in a range of situations. Others, like the Maverick Assaulters Belt, are ergonomically designed for all-day comfort that stays out of your way. Look for sturdy belts made from nylon that enable you to attach medical pouches and emergency tools.
EDC Belt Shopping Hacks
There's a lot more to a tactical belt than keeping your pants up, so keep these tips in mind while you shop:
Tactical belts without holes offer micro-adjustability for a custom fit – without holes, you can size the belt just right for work, the range or EDC.
Belts made from fade-resistant and fray-resistant materials tend to last longer.
An integrated D-ring and a quick-release buckle, often characteristic of rigger's belts, offer "one-time fit and forget" functionality.
Belt width doesn't always correspond to stability, but generally, the wider a belt is, the less likely it is to twist and sag when you attach your gear to it. Just make sure the one you choose fits the belt loops on your pants.
Finding the right tactical belt for EDC doesn't have to be hard, as long as you know what you're looking for. Browse 5.11 Tactical's® entire selection of belts and other tactical accessories to get exactly what you need today.