What to Consider When Choosing a Tactical Flashlight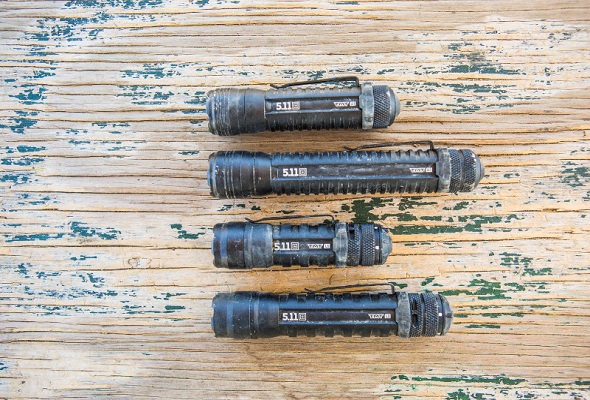 When you need to find a tactical flashlight that carries you through work missions, recreation and survival scenarios, you have to be selective – you need a light that's tough enough to keep up with you and that's built to last through difficult conditions. This guide explains what you need to consider when you're choosing a tactical flashlight for your go bag, your utility belt or your car's glovebox.
A tactical flashlight provides more features than the ordinary flashlight you take camping does. You need one with long-lasting bulbs, an always-ready power source that won't fizzle out when you need it most and illumination that actually does you some good in an emergency situation.
Bulb Types and Power Sources for Tactical Flashlights
Most tactical flashlights come with LED bulbs. LEDs are pretty energy efficient, which means you'll replace batteries less frequently as you would with a standard-bulb flashlight. If you find anything other than an LED bulb, take a hard pass. They burn out pretty quickly in comparison, and when that happens, most people just opt to replace the whole flashlight – but a good tactical flashlight isn't cheap.
You usually have two choices for power sources: disposable batteries and rechargeable batteries. If you pick a tactical flashlight that runs on disposable batteries, make sure they're common sizes – nothing too funky, because they'll be tough to replace when they're dry. There are a few downsides to using a rechargeable flashlight, including the time commitment you have to make in hooking it up to the charger and stay on top of it. Over time, rechargeable batteries lose the ability to hold a decent charge. You'll need to have a spare battery charger kit that charges multiple types of batteries – including Li-ion, NiMh and NiCad – and that has extra features, like a USB output to charge your personal electronics, a micro USB cable and a 110 VAC USB power adapter.
Lumens and Illumination
Lumens are a measurement of the amount of light something emits per second. The higher lumen output your tactical flashlight has, the brighter it'll be and the more battery power it will consume. The best tactical flashlights have lumen output settings you can choose, and some even include a strobe feature that produces ultra-bright light to confuse or deter attackers, as well as create a stop-motion effect you can use to buy time in an emergency.
When you're scoping out flashlights by lumens and how they'll light up whatever you're looking at, here's what you need to consider:
Whether the flashlight has more than one mode
The flashlight's beam distance
How long the flashlight will run on its highest setting
It's important that you choose something like the Rapid L2 tactical flashlight or the Station 3D tactical flashlight, which can function at high capacity for an extended period of time and offers you plenty of options for operation.
Tactical Considerations
Other important tactical considerations when you're searching for the right flashlight include:
Weight. The lighter, the better. One of the lightest tactical flashlights available is the Response CR1.
Finish. Black finish is more tactical for nighttime operations, but others can serve you just as well.
Weather resistance. Find a flashlight that protects itself from rain and inclement weather.
Lens material. Plastic lenses are lighter and more versatile, but make sure you opt for those that are scratch-resistant.
Every flashlight has its own pros and cons, but when you're looking for a tactical light that'll carry you through the worst-case scenarios, your main concerns should be light output, power source and weight – you can't go wrong when you nail that trifecta.