Choosing Between Hard or Soft Gun Cases
You need the right rifle case to safely transport or store your gun, but it can be a tough call picking between a hard rifle case and a soft one. For most people, the only difference between these two kinds of cases is whether the sides are hard, like a suitcase, or soft like a duffel bag.
But there's a lot more to gun cases than that, especially when it comes to functionality.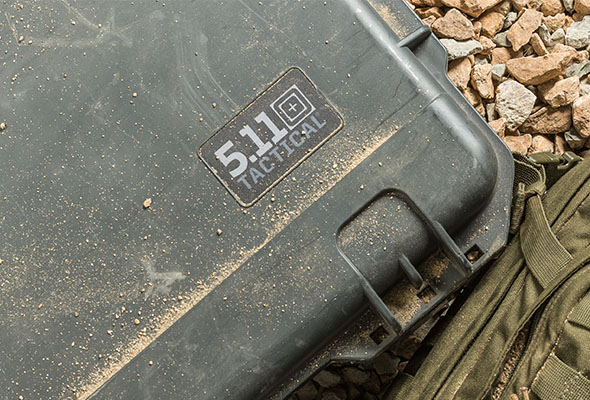 Hard Rifle Case vs. Soft Rifle Case
Hard gun cases offer a tough outer shell typically made from durable plastics and metals, plus a foam interior lining that keeps your gun secure.
Soft gun cases are made from flexible yet durable fabrics like nylon and ripstop materials. The insides are lined with soft padding for protection.
Each type of case has its own pros and cons, and for the most part, your purpose for buying the case should guide your decision.
Pros and Cons of Hard Cases
Hard rifle cases and handgun cases offer more protection for your firearm than soft gun cases do. With a hard outer shell and interior padding to insulate your gun, a hard case might be the right choice for long-term storage or long-distance transport.
Cases made from plastic and fiber-reinforced compounds can be lightweight and exceptionally durable. If you're buying a hard gun case, these are the features you should look for:
Crush-proof construction
Watertight protection
Layered foam inserts
Reinforced locking points
Wheels for easy transportation
Hard Cases

PROS

CONS

Secure impact protection for your firearm

Typically more expensive

Can meet certain requirements for firearm transport and include locking mechanism*

Can be heavier, bulkier and louder to carry and open than soft cases
*TRAVELING WITH FIREARMS: Gun transport laws vary by state and method of transport. If you're buying a case for a specific trip, double check the laws and requirements for where and how you'll be traveling.
Pros and Cons of Soft Cases
Soft gun cases are often more convenient to carry and easier to manage than hard rifle cases, but they tend to offer less protection. Some are designed to float or serve as cushions when they're not in use. Generally, soft gun cases provide sufficient protection and quiet operation that's ideal for hunters, in particular.
Look for these features before buying a soft rifle case:
Nylon or ripstop fabrics for durability
Integrated rifle retention or internal tie-down system to secure your gun
Muzzle and stock pockets
Compression straps
Technology that makes the soft case easier to carry, like the 5.11 yoke backpack system.
Soft Cases

PROS

CONS

Lightweight and quiet (great for hunting trips)

Not as secure or impact-resistant as hard cases

Can be waterproofed and designed to float

Gun can shift more easily during transport
Things to Think About Before Buying a Gun Case
Gun cases come in dozens of styles and sizes – including double-rifle cases. Here are some more tips to help you decide on the best gun case for you:
If you hunt waterfowl or plan to carry your gun for long distances outdoors, buy a waterproof case.
If you care about security, buy a case with a built-in locking mechanism.
If you want to attach extra gear to your case, buy one that's MOLLE-compatible.
If you will carry the case on your back, buy one with sturdy, comfortable straps.
Let Your Gun - and Your Mission - Make the Choice
Choosing a hard or soft case is often a matter of personal preference. But ultimately, the one you choose must fit your gun and mission. Use our tips to find the best gun or rifle case for your needs.