The Ultimate Competitive Shooting Equipment Checklist
Competitive shooting tests skill, instincts and experience – and it's a test you won't pass without the right gear backing you up.
Use this competitive shooting equipment checklist to get ready for your next match. Learn about best shooting gear, clothing and supplies to prep for the following kinds of events:
Running through a practical course with the USPSA
Demonstrating your self-defense capabilities in an IDPA competition
Showcasing your speed and accuracy in a 3-gun event
Racing against the clock and other competitors in an ICORE match
Establishing your expertise in an NRA-sanctioned competition
And shooting in a range of other gun competitions!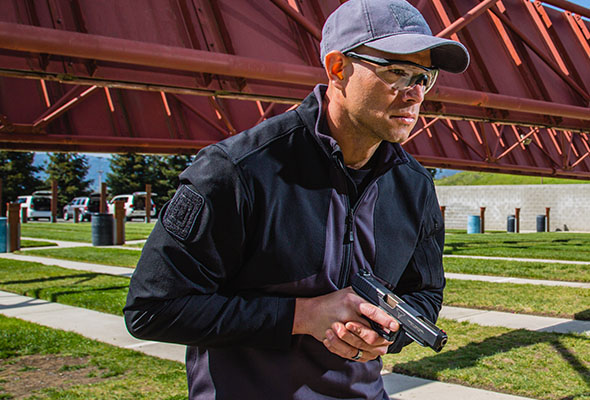 Firearms and Ammo
You'll have at least one gun in tow when you go to a shooting competition, but for some people, one gun may not be enough. We're not just talking about multi-gun events here – we're talking about bringing backup firearms to keep things running smoothly.
If you can't bring backup guns, at least bring a parts kit for on-the-fly repairs. Few things are worse than traveling for a shooting match and having a broken gun stop you from competing.
Ammo Hack: Bring extra ammo to every competition. A good rule of thumb isto figure out the bare minimum you'll need for the competition, and then double it.
Shooting Range Accessories You Shouldn't Go Without
If you're shooting in a USPSA, 3-gun, ICORE or IDPA competition, you definitely need to bring the competition holsters that you've been practicing with. Beyond your holsters, here's a list of additional competition shooting gear that you might need:
A gunsmithing kit or small toolkit
A range bag packed with all the right items
A sturdy case with an easy-to-grab handle and plenty of storage space inside (preferably one that's waterproof)
A universal cleaning kit that's stuffed with supplies
Lubricating oil
Shooting Competition Apparel
Competition shooting supplies are one thing, and the clothing you wear is another. The right tops, jackets, pants andbelts can make an enormous difference in your mobility and the way you perform.
Competition Shooting Shirts
Find a top designed to stretch and move with you without getting in the way – particularly if you're going to be on the go, like at a USPSA competition. Look for tactical shirts with these features:
Breathability
Snag-resistant fabric
Moisture-wicking capabilities
Competition Shooting Jackets
Pick a field jacket or competition shooting jacket that doesn't restrict your arms or otherwise prevent you from taking aim and firing an accurate shot. Find a tactical jacket with the following qualities:
Ripstop fabric
Slim lining and lightweight construction so you can layer without too much bulk
Hook-and-loop cuffs to keep the ends of your sleeves out of your way
Competition Shooting Pants
Select competition shooting pants that aren't too tight when you're in a firing position. Look for a little "give" so you can move quickly to react to new scenarios. Buy shooting pants with these benefits:
Reinforced seams in the seat and bar tacks at stress points
Flex-Tac® ripstop fabric (like we use in 5.11 Stryke™ Pants)
Kneepad-ready knees
Competition Shooting Belts
Choose a competition shooting belt that's sturdy enough for your holster and strong enough to carry extra gear in the back, like a multi-tool – but remember, only some competitions require you to wear a belt.
Pro Tip:Always check the specific competition's rules to determine the exact gear you'll need.
Competition Shooting Safety Gear
Every legitimate shooting event requires safety gear, although the specific requirements will vary by competition. Here are some basic safety accessories for shooting competitions:
Chamber flag
Ear pro
Knee and elbow pads
Knowing what you need before you hit your first match can make a huge difference in the way you perform. Remember, every match (even those within the same organization) can have different rules, requirements and recommendations, but having all the basics covered will give you a little peace of mind and ensure you're not scrambling for gear a few minutes before the competition starts.