Why Use a Tactical Belt?
Concealed carry, sensitive missions in undisclosed locations, and everyday operations require the right tactical belt – one that supports the equipment you need to get the job done, whether you're working on an MRAP in the middle of the desert or you're hitting the range to zero and qualify on a new firearm.
So, what makes tactical belts so special? Find out why using a purpose-built tactical belt during daily exercises and mission-specific operations can lead to more success in the field.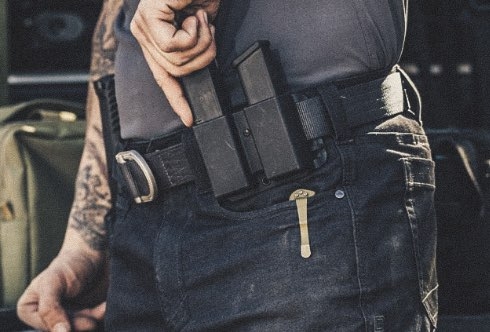 Why the Most Experienced Operators Use Tactical Belts
Tactical belts have been used for thousands of years. Roman Legionaries wore them to carry swords, support protective gear and hold pouches packed with battlefield essentials, including water. Today, you can wear a simple rigger's belt or you can spring for an all-out tactical belt to keep you prepared for anything.
Today's military and law enforcement departments across the world have it right: Tactical belts are part of the uniform. That's because they do more – a lot more – than holding up military pants. When you find the right belt, you'll be able to take advantage of the following mission-specific features:
MOLLE compatibility
Holster attachments for concealed-carry
Multi-tool attachments
What to Look for in a Tactical Belt
A purpose-driven belt like our Alta tactical belt is versatile enough to keep you on-track, no matter what you're doing. In fact, the right tactical belt meets all of the following criteria:
Rugged enough to hold your equipment, but flexible enough not to constrict your movement.
Made of a heavy-duty construction that won't droop when a 2- or 3-pound firearm is holstered and attached.
Comfortably built to ensure the belt doesn't impede your breathing when you're chasing a suspect, firing in the prone unsupported position or enjoying a rare moment of down time.
Key Features of a Quality Tactical Belt
For most operators – novice and experienced – it's best to look for a tactical belt that includes several of the following features:
A solid D-ring attached
Aability to convert to a tie-down or carry strap
Parachute-grade metal buckles and sliding tension bars
Bonded, webbed nylon construction
Hook-and-pile attachment reinforcements
MOLLE-compatible loops
2-inch width for extra stability (ideal for concealed carry, visible holsters and multi-tool attachments)
Minimum 0.5-inch thickness
Stiff, ripstop fabric or leather that won't curl under the weight of attachments
Easy adjustability and fast removal
How to Choose the Perfect Tactical Belt
To find the right tactical belt for you, consider what kind of missions you'll be using it for. If you're just looking for a belt for concealed carry, you may not need a lot of additional features. Tactical operations and field missions are more likely to require D-rings, metal buckles and other high-quality features to easily and comfortably hold all your gear.
Fitting a Tactical Belt
After you've decided which features you'll need, find a belt that fits you perfectly. Fit is incredibly important, so find a tactical belt that provides enough length and is easy to adjust. Look for a belt that's flexible enough to let you move but stiff enough to hold your holster, multi-tools and other equipment without weighing down your tactical pants.
To find the best option for you, shop the wide assortment of innovative, high-quality tactical belts available at 5.11 Tactical®.